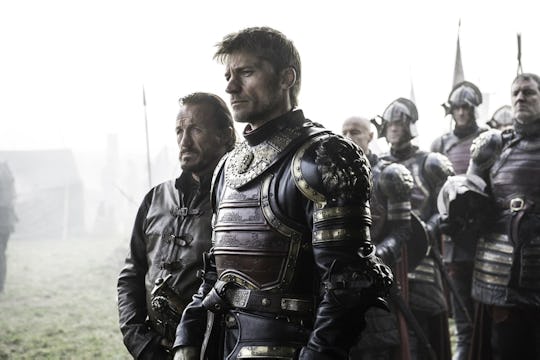 Helen Sloan/HBO
This Bronn Photo May Suggest Bad News For Jaime On 'Game Of Thrones'
So far, Game of Thrones has been serving up some very big surprises (beloved character deaths, two major battles, etc.), and it looks like things won't be slowing down anytime soon judging by the looks of the teasers and images HBO has released for this week. In anticipation of Episode 4 this Sunday, the network has released a Bronn photo from Game of Thrones, which suggests that he and his bud/comrade Jaime Lannister could be in for a pretty big surprise.
The photo shows Jaime and Bronn on their horses looking at something on their way back to Kings Landing, presumably after taking Highgarden. With all of the Tyrell gold in their possession to hand over to Cersei to pay off her debts (as we know, a Lannister always do), something appears to stop Jaime's army in their tracks. But what? What are they looking at?
Given all of the hints in trailers and teasers, it could very well be some fire-breathing dragons. Remember, the Tyrell's have been allied with Daenerys ever since last season, when Cersei attacked the rest of the Tyrell family. And Jaime and his soldiers would be caught totally off guard with an attack, given that they think they've just solved all of their problems.
Of course, this is all speculation, but it would be pretty perfect. Alas, there won't be a lot to see on Sunday. According to Entertainment Weekly, this week's episode will be its shortest ever. "Spoils of War" is only 50 minutes long, which might seem weird since the first three episodes of the season have been over an hour. So if Daenerys is attacking Jaime and his soldiers, it won't last long — or will happen at the very end, leaving us with a cliffhanger.
If that seems like sort of a cheat, don't worry. This season's finale will be the longest episode in Game of Thrones' history — almost an hour and a half. Hopefully, everyone will still tune in this week. On Friday, HBO announced that "Spoils of War" was leaked after a hack into one of their third party distributors' systems. Star of India, the distribution partner, said in a statement:
We take this breach very seriously and have immediately initiated forensic investigations at our and the technology partner's end to swiftly determine the cause. This is a grave issue and we are taking appropriate legal remedial action.
But leak or no leak, Sunday's episode will definitely be tense. What are those two looking at anyway? Fans will find out soon enough.