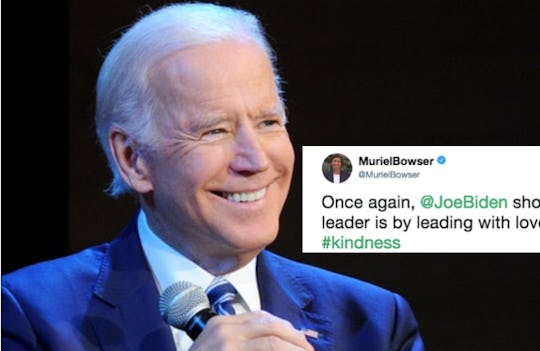 Craig Barritt/Getty Images Entertainment/Getty Images
This Candid Photo Of Joe Biden Chatting With A Homeless Man Is Making The Internet So Emotional
If there's one person out there who so perfectly encapsulates the "caring grandpa" stereotype, it's Joe Biden. The former vice president is known for his love of aviators, ice cream, and helping people. And it's the latter that's making him go viral right now. If you haven't seen this candid photo of Joe Biden chatting with a homeless man outside of a movie theater, then you're missing out. But be warned, you may get a bit teary-eyed since it's making the rest of the internet a bit weepy.
Since Biden left the White House, there have been numerous reports (and rumors) that he is preparing to run for president in 2020, something Biden has said he regrets not doing in 2016, as Newsweek reported. But he wasn't making headlines for that over the weekend, although it's something many people want to be a reality.
On Friday night, Biden was spotted doing something pretty ordinary, but also extraordinary. According to a Facebook post shared by D.C. Public Affairs consultant and businessman Paul Equale, "Joe Biden took his granddaughter to the movies in Georgetown last night.....on his way out he stopped to speak w/ a homeless man." That post has since garnered more than 146,000 reactions and over 102,000 comments on Facebook.
In the image — which was reportedly taken by a man named Caleb Baca, according to Fox 5 — Biden can be seen leaning over and speaking to a man sitting on some steps outside. Now, based on that alone, it can't really be assumed that the man Biden was speaking to was homeless, but the bystander surmised as much and multiple news outlets have identified the man as such.
"Character is about what you do when no one is watching," Equale concluded the post.
The picture is a bit blurry, but you can still make out just how heartwarming the interaction between Biden and the man was. The former VP also appears to be holding something in his hands, although it's unclear what it is, but the man who took the photo told Fox 5 that it could've been a handwritten note. "I'm not exactly sure what he gave the homeless man, but he appeared to write something down on a piece of paper inside the movie theater, which he then proceeded to give the homeless man outside," Baca told Fox 5.
Although what was exchanged may remain a secret between them, people's comments on the Facebook post have been totally uplifting and supportive of the 75-year-old former senator. "Say what you want about Joe Biden," one person's comment read. "He's nothing if not compassionate and kind. His life - through tragedy and triumph - is an example of grace."
"Just another example of kindness. What a great role model. I'm glad this is getting shared, because I love this man," another commented on Equale's post. "And he's doing what all of us should do and many of us do every single day. Being kind."
Many on Twitter were just as touched by the photo.
Many people have found solace in Biden's resilience. The Pennsylvania native has been through some pretty trying times in his life. According to CNN, in December of 1972, "while Christmas shopping, Biden's first wife, Neilia Hunter Biden, and daughter Naomi Biden are killed in a car accident." The news outlet added that his sons Beau and Hunter were badly injured, but survived the accident.
Sadly, this wasn't the last time when Biden faced personal trauma. After falling in love with Dr. Jill Jacobs and marrying her five years later, Biden lost his oldest son, Beau, on May 30, 2015, due to brain cancer. The former vice president has faced numerous amounts of challenges and tragedy, but he remains dedicated to the public service, as evidenced by this viral photo.
Considering that Biden made headlines recently for possibly considering a run for the presidency in 2020, this photo of him making rounds on social media right now is even more poignant. According to Politico, "Joe Biden knows that winning in 2020 would require a shoot-the-moon set of circumstances and luck. So his team is on the hunt for a moon shot."
Really, though, the photo of Biden isn't about tragedy or political gain. As people online have pointed out, it's about one thing: kindness.
Check out Romper's new video series, Romper's Doula Diaries:
Watch full episodes of Romper's Doula Diaries on Facebook Watch.