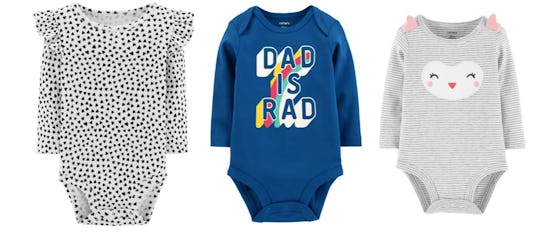 Carter's
OMG! You Can Buy 1, Get 2 Free On Bodysuits, Leggings, & More At This Carter's Sale
Friends, I am the woman who receives a compliment on her shoes and immediately answers, "$5! Target!" I love a good sale and I love even more telling people about said sale — even when all they wanted to do was give me props on my shoes and move on. That's why I feel like it is my moral obligation to tell you about this awesome sale at Carter's. I know you didn't ask, but I think you'll thank me.
First, the details: All of the items listed below are an extra 20 percent off with a $50 purchase. Just use the promo code "STOCKUP" at checkout. But you can also use the "doorbuster" deal to snag a buy one, get two free deal on bodysuits, tees, leggings, and joggers. That means for some of those adorable bodysuits, you're only paying $14 for three of them. You guys. There's also free shipping through Monday and 50 percent off major items like shoes and the new Carter's KID collection. You can also snag 25 percent off Carter's sister store, Skip Hop, and grab your kids any school supplies they need like backpacks, lunch boxes, and more. Basically, the sale is huge, so let's take a look at some more details.
Newborn and Infant Picks
If you are shopping for a new little one in your life or simply a baby that you can't stop buying all the things for, then you might want to check out the bodysuits, rompers, and oh-so-snuggly pajamas that are one sale.
For The "Big" Kids
Toddler girls and boys can also score some seriously cute stuff, including dresses for girls that can be worn now and easily transition to fall (think boots and tights), as well as stylish graphic tees with coordinating pants for boys. Like the above, all you need is the promo code and at least $50 worth of merchandise in your cart to score the extra discount on these items.
Don't Forget Accessories & Shoes
Essentials like underwear and socks are kind of constant necessity. That's because if they aren't growing out of it (socks and shoes), then the season changes and they need something new (hats and sunglasses). Here are a few you might want to scope out at this killer sale:
Closing (Shopping) Notes
Carter's also just opened their all-new section Carter's KID of their store that includes clothing size 4 to 14 for girls and boys, so you might want to check that out if you have older kids in your crew.
The spend $50-get-an-extra-20-percent-off sale is also happening in stores through Monday, Aug. 6. But, let's be honest, you're not getting off of the couch when you can shop for all of this cuteness from the comfort of your home. That's why the promo code is so dang convenient.
Bonus? Some of the items feature that BOGO (or in some cases, buy one, get two) offer, which really means one thing: Why are you still hanging out with me and not shopping?