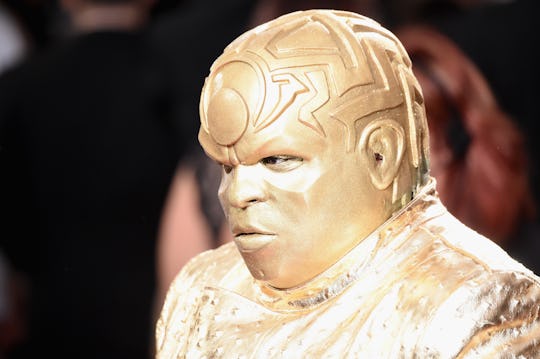 Frazer Harrison/Getty Images Entertainment/Getty Images
This CeeLo-Trump Meme Will Give You Life
In case you missed it, CeeLo Green arrived at the 2017 Grammys red carpet reportedly dressed as his alter ego, Gnarly Davidson. Dressed head to toe in gold, complete with a gold face mask, Green made quite the statement on the red carpet. And now, because of course, this CeeLo Donald Trump Grammys meme is going viral, and I am not underselling it when I tell you that you have to see it.
While Twitter was definitely confused at Green's appearance on the red carpet, the singer himself later retweeted several other tweets that seemingly confirmed his emergence as Gnarly Davidson. But, as his outfit was so incredibly extreme, that didn't really do much to calm people down, especially since Green's appearance is usually relatively mild. Despite the wave of equally hilarious jokes and memes that flooded Twitter following his appearance, however, one of the best memes of the night managed to poke fun at Green, and our current president, Donald Trump.
The images — yes, there are several — depict Green, in all of his golden glory, in the background of Trump's apartment, which also features a very gold and gilded aesthetic. In the pictures, Green blends in perfectly, and in fact, even seems to appear as some sort of golden villain, causing Twitter to retweet the memes over 8,000 times (so far).
Notably, Trump's home decor taste seem to err on the side of, shall we say, elaborate? In fact, mere days after his official arrival in the White House, it was reported that Trump had changed the drapes in the Oval Office to, of course, gold. Honestly, the meme was — and I apologize in advance for this pun, but — pure gold.
It really does look like CeeLo was dressing tonight for just this occasion, and thank goodness, because this worked out so perfectly.
Especially in today's heightened political climate, when it seems that not one day goes by without some sort of scandal, unbelievable headline, or news-worthy moment happening, these are the kinds of memes that can help you forget, even if just for a moment. While this probably wasn't what Green had in mind when he was getting dressed this afternoon, it was definitely a welcome reprieve from the real world. (You know, the one in which we have a reality television star as our president?)
All else aside, though, Green's outfit was certifiably meme-able, and thanks to the worthy Donald Trump meme it spawned, it's safe to say that Green has achieved Grammys goals tonight, even without performing.