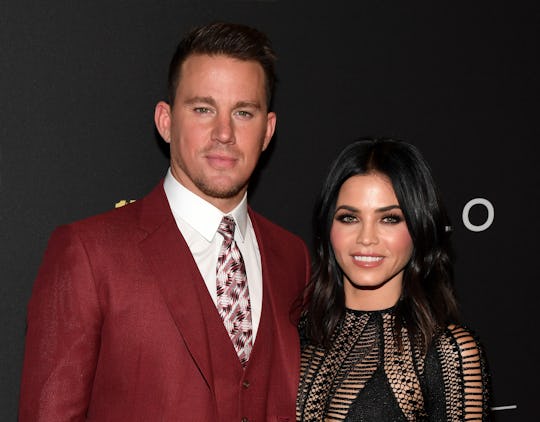 Ethan Miller/Getty Images Entertainment/Getty Images
This Channing Tatum & Jenna Dewan-Tatum Relationship Timeline Will Ruin You
As you've probably heard by now, another beloved Hollywood couple have called it quits. On Monday evening, Channing Tatum and Jenna Dewan-Tatum announced in a joint statement that they are separating after nine years of marriage. This shocking news has left fans devastated — and judging by Twitter reactions, some are essentially giving up on love. Because to the outside world, they seemed completely in love and the epitome of #relationshipgoals. The perfect couple. (You know, despite interviews through the years, during which they tried to dispel these misconceptions.) Because our hearts are still trying to come to terms with the split, this Channing Tatum and Jenna Dewan-Tatum relationship timeline will ruin you.
If you remember, Dewan and Tatum initially met during their auditions for the 2006 film Step Up — which was surprisingly successful. And honestly, that probably had something to do with the amazing chemistry Tatum and Dewan had. In August 2016, Dewan posted a throwback pic on Instagram of the pair during their Step Up days. "#tbt to on set of Step Up," she captioned the adorable shot. "I cannot believe it's the 10 year anniversary of the release today!! Ahhhh where does the time go?? Love you all and thanks for all the love all these years."
And I mean, just look at those moves!
In a recent interview with Cosmopolitan, Dewan shared how she and Tatum wound up together.
It was two nights of being weird. We hadn't even kissed. And then he went out partying with a bunch of dancers. His room was right above mine, and he came down drunk with a sombrero on, banging on my door. He was like, "I couldn't stop thinking about you. Let's do this. I just want to be with you." From that point forward, we were together.
Tatum also shared his account of their becoming a couple with Elle back in 2013. Because apparently, it almost didn't happen. "I had just gotten out of a pretty long relationship, so I was in no way ready for another. I was trying to run from what I knew Jenna was — not someone I was just going to date." He explained that one of his friends ended up talking him into asking her out.
That night I showed up at her hotel room with a sombrero on, and that was it.
(Man, there must have been something about that sombrero...)
As People reported, Tatum and Dewan became engaged in September 2008. Tatum proposed while the couple were in Maui, in front of close friends, according to the publication. The following summer — on July 11, 2009 — they tied the knot in Malibu, Cosmopolitan reported.
By December 2012, the Hollywood power couple announced they were expecting their first child, E! Online reported.
Tatum announced on his website that Dewan-Tatum had given birth to a baby girl named Everly on May 31, 2013.
These days, Everly is 4 years old — and apparently quite the makeup artist, judging by a recent Instagram post.
Which brings us to the most recent news. On Monday, Tatum and Dewan-Tatum jointly announced they have decided to separate, People reported. "Hey world! So … We have something we would like to share," the statement began:
First off, it feels odd that we have to share this kind of thing with everyone, but it's a consequence of the lives we've chosen to lead, which we also happen to be deeply grateful for. We're living in an incredible moment in time, but it's also a time where truth can easily get distorted into 'alternative facts.' So we want to share the truth so you know that if you didn't read it here then it's most certainly fiction.
Both Tatum and Dewan-Tatum confirmed the news with identical posts on Instagram:
We have lovingly chosen to separate as a couple. We fell deeply in love so many years ago and have had a magical journey together. Absolutely nothing has changed about how much we love one another, but love is a beautiful adventure that is taking us on different paths for now. There are no secrets nor salacious events at the root of our decision — just two best-friends realizing it's time to take some space and help each other live the most joyous, fulfilled lives as possible. We are still a family and will always be loving dedicated parents to Everly. We won't be commenting beyond this, and we thank you all in advance for respecting our family's privacy. Sending lots of love to everyone, Chan&Jenna.
As disappointing as the news may be to longtime fans of Channing Tatum and Jenna Dewan-Tatum, it seems as if they are making the best decision for their family — and that they're parting amicably. ( I don't know about you, but I respect that they are being so direct about the split, while also noting they won't be elaborating on their decision.) The overarching take-away from this turn of events? No matter how "perfect" or #relationshipgoals a couple may seem to the outside world, we should be careful to idolize their relationship. Because you never know what their reality is behind closed doors. I wish Tatum and Dewan the best moving forward from this trying time.
Check out Romper's new video series, Romper's Doula Diaries:
Watch full episodes of Romper's Doula Diaries on Facebook Watch.