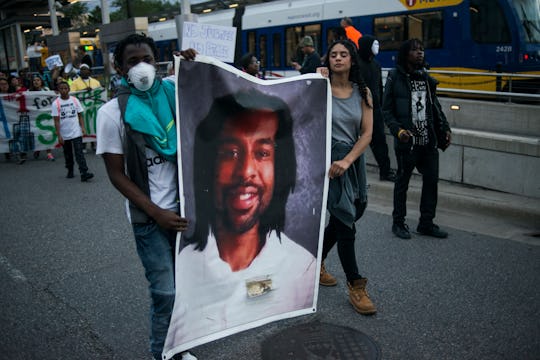 Stephen Maturen/Getty Images News/Getty Images
Charity Honoring Philando Castile Wipes Out An Entire School District's Lunch Debt
It's been nearly two years since Philando Castile, a man who's remembered for caring deeply for the students at the school where he worked, was killed by a police officer in a traffic stop near St. Paul, Minnesota. Since then, family and friends of Castile have organized events, protests, and charities to keep him alive in spirit. And now, the money raised through a Philando Castile charity has paid for an entire school district's lunch debt for its students and it truly is an incredible way to honor his memory.
Just one woman created The Philando Fund last year in order to continue Castile's legacy after his death, but it's already grown beyond her and him. As CNN reported, Castile was known for using his own money to help kids pay off their school lunch debt. Before he was killed, Castile worked as a school nutrition supervisor for St. Paul's Public School Districts, according to CNN.
Of course, on his own, Castile wasn't able to pay for as many students' school lunch debt as the charity has been able to, but his passion for giving has inspired a cause that made it possible now. In fact, the Philando Fund's most recent check was able to pay off the "lunch debt of every student at all 56 schools in Minnesota's St. Paul Public Schools," per CNN, which equated to about $35,000 and helping as many as 37,000 kids.
The fund in Castile's name was only started back in August of 2017, ABC News reported. "Pamela Fergus, a psychology professor at Metropolitan State University in St. Paul, and about 20 students in her diversity and ethics class established the online 'Philando Feeds the Children' charity in August," according to ABC News. And in that short amount of time, the fund has already raised over $130,000 to date, the outlet reported. Additionally, the charity is committed to taking Castile's kindheartedness beyond city limits; the foundation's priority is to help any kid be able to eat lunch. The fundraising website for the charity has this to say about what it's trying to accomplish:
Philando was "Mr. Phil" to the students at J.J. Hill. He supervised their food program and interacted with the kids every day. He knew their names and their diets. He LOVED his job!Philando's death affected every one of those kids. This fund hopes to provide the kids with a lasting connection to Mr. Phil.
Unfortunately, the free lunch program doesn't help as many students as it should. "Under the school district's rules, low-income students who have lunch debts cannot apply for reduced or free lunch program until the debt is cleared," ABC News reported. Additionally, many students might have families that make just over the required income for the free lunch program, but still can't afford the price of a school lunch every day, sending them into debt.
But that's what Castile wanted to prevent before he was killed and it's what the foundation is working to prevent today, although Castile's family isn't directly involved. However, the charity's website clarifies any confusion by stating that the organizers have been in touch with Castile's mother. Per the website:
I talked with Philando's mother, Valerie Castile, before this site was created. We have her approval and blessing. I send her the comments. I keep her updated about our success. Ms. Castile is an amazing woman who dedicates herself to justice and peace.
The charity is clearly on the right track to continuing to do Castile's good work, despite the horrific circumstances. And if you're interested in donating to the noble cause, you can still do so right here.
Check out Romper's new video series, Bearing The Motherload, where disagreeing parents from different sides of an issue sit down with a mediator and talk about how to support (and not judge) each other's parenting perspectives. New episodes air Mondays on Facebook.