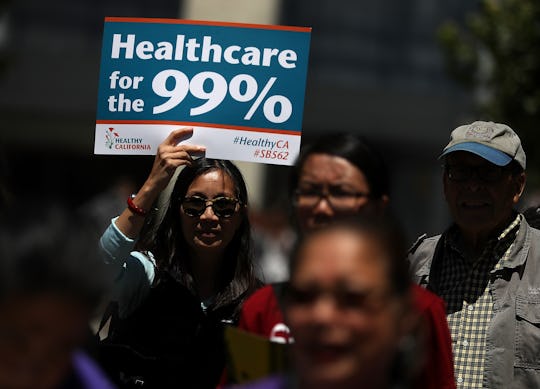 Justin Sullivan/Getty Images News/Getty Images
This Chart Shows How The BCRA Will Hurt Families
On Thursday, Republicans in the U.S. Senate finally revealed their version of the American Health Care Act. The GOP had spent weeks reworking the contentious legislation, dubbed Trumpcare, in secret, frustrating most of Congress and the American public. But what Senate Republicans have turned is nothing short of disastrous and this chart shows how the health care bill will hurt mothers and children.
First things first: The GOP is desperate to pass its bill to repeal and replace the Affordable Care Act. According to CNN, Republican Senate Majority Leader Mitch McConnell of Kentucky wants a vote on Trumpcare next week. That gives senators little time to review the 142-document the Senate GOP has just unveiled. So far, the Republican Party doesn't have the votes it needs to pass this legislation, CNN has reported, but that doesn't mean opponents should rest on their laurels.
Now that that's out of the way, let's get down to brass tacks. According to the New York Times, the Senate iteration of Trumpcare hacks away at Medicaid. As with the House version, the Senate bill phases out federal funding given to states as an incentive to expand Medicaid eligibility. The Times also reported that Trumpcare 3.0 would "put the entire Medicaid program on a budget, ending the open-ended entitlement that now exists."
The Senate version of AHCA will also do away with most, if not all, of the tax increases established by ACA, according to the New York Times. That means the United States' wealthiest people will get a broad tax cut that will be covered by — you guessed it — the billions of dollars cut from Medicaid. Medicaid, by the way, helps one in five Americans, most of whom are adults and children from low-income families and people with disabilities.
In numbers: 39 percent of all children, 76 percent of poor children, and 60 percent of children with disabilities are covered by Medicaid, the Times chart above shows. A staggering 49 percent — roughly half — of all births in the United States are covered by Medicaid. Cuts to the Medicaid program means millions of parents and children will lose access to life-saving health care, putting them at severe risk. According to the Center for Budget and Policy Priorities, restructuring and limiting Medicaid would hurt nearly 70 million people by forcing states to cut eligibility and benefits.
As Debra L. Ness, president of the National Partnership for Women & Families, said in a statement,
The Senate bill, which mirrors the House version, would still strip health coverage from millions, drive up costs, cut critical protections, gut Medicaid, defund Planned Parenthood, expand harmful abortion coverage restrictions and ultimately endanger women's health and economic security – in order to deliver tax cuts to the wealthy. ... America's women and families deserve much better.
Senate Republicans and even the media have dubbed this legislation a "moderate" version of what the House conjured up. Don't let that fool you. Trumpcare 3.0 is not more moderate version that what the House put on the table the second time around. Even though people with pre-existing conditions in the private market, adults and children with disabilities will be hurt by the cuts to Medicaid. How is that any better than before?