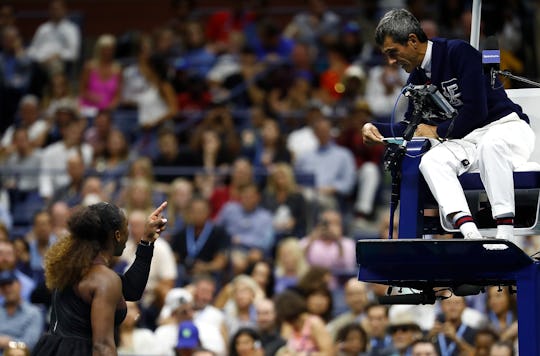 Julian Finney/Getty Images Sport/Getty Images
This Comic Of Serena Williams Highlights The Inequality Black Moms & Athletes Face
Were you just regretting that you hadn't felt rage today? Are you looking for something to stir a sense of disgust deep in the pit of your stomach? No? Yeah, I wasn't either... but here we are. Following the U.S. Open on Saturday, this comic of Serena Williams is circulating the internet, and it sure does highlight the inequality black moms and athletes face when they attempt to express themselves. In the form of an editorial cartoon drawn by Mark Knight and published in the Herald Sun newspaper, the "Angry Black Woman" trope reared its ugly head yet again.
When umpire Carlos Ramos accused Serena Williams of code violations that equate to cheating during Saturday's U.S. Open, she responded with accusations of sexism and unfair treatment, according to CNN. She called Ramos a "thief" for taking a point from her, and he issued her a game penalty that many have argued cost Williams the game.
"I'm here fighting for women's rights and for women's equality and for all kinds of stuff. For me to say 'thief' and for him to take a game, it made me feel like it was a sexist remark," Williams said, according to CNN. "He's never taken a game from a man because they said 'thief.' For me it blows my mind. But I'm going to continue to fight for women." This articulate and, — in my opinion — justifiable argument was transmogrified into a disgusting comic that will most likely seriously piss you off.
If you are feeling heated at the sight of Williams being portrayed as a baby mid-meltdown with a pacifier next to her broken racket, you're not the only one. Many voices on Twitter pointed out the blatant racism of the comic and their resulting Jim Crow flashbacks.
The "Angry Black Woman" trope is a portrayal of African-American females that characterizes them as not only incapable of controlling their rage, but defined by it. From sassy black sidekicks supporting leading white roles, such as Dionne in Clueless, to "Sapphire sisters" who have an unexplained chip on their shoulders, like Terri from Barbershop, these shallow portrayals of their complex real-life counterparts are as culturally pervasive as they are persistent. Knight's depiction of Williams reduces her from a successful businesswoman, mother, and athletic superstar to a big black infant throwing a temper tantrum. And that is not OK.
Celebs and pro-athletes alike have voiced their concerns over the racist undertones of the comic. As author and part-time social media social commentator J.K. Rowling put it, according to TMZ, "Well done on reducing one of the greatest sportswomen alive to racist and sexist tropes and turning a second great sportswoman into a faceless prop."
As Rowling pointed out, Williams was unable to express her rage and opinion of the umpire without being reduced to a stereotype. Tennis great Billie Jean King, who has 12 Grand Slam titles of her own, stated as much in a piece she wrote for the Washington Post:
Women are taught to be perfect. We aren't perfect, of course, and so we shouldn't be held to that standard. We have a voice. We have emotions. When we react adversely to a heated professional situation, far too often, we're labeled hysterical. That must stop. Tennis is a game, but for Williams and Osaka, it's also their job, their life's work. Yes, Williams was heated during the match because she felt Ramos wasn't just penalizing her, but also attacking her character and professionalism.
Despite what Knight's comic would have you believe, Williams' reaction was justified and even the Women's Tennis Association has backed her claims of mistreatment, according to the BBC. The WTA's chief executive stated that it was "sexist" to have penalized her a game:
The WTA believes that there should be no difference in the standards of tolerance provided to the emotions expressed by men versus women," Simon said in a statement. We do not believe that this was done last night."
Diana Nyad, acclaimed author, journalist, motivational speaker, and long-distance swimmer, posted to Facebook about another part of William's behavior following the umpire's calls that has been significantly less discussed in the media: her comforting of Naomi Osaka who was robbed of the joy of winning the match outright:
Ramos should never call another important tennis match. Osaka will no doubt lift many Grand Slam trophies over coming years.And Serena, to witness her wrap her arm around a crying Osaka, comforting her, encouraging her to proudly accept the title, well this is a new, mature, lovely, mom of a Serena Williams. Yesterday I became her biggest fan.
Williams lost the chance to fairly compete for the title against Osaka, but she offered the world an opportunity of a different kind: the opportunity to examine why so many people reacted to her conflict with the ref in such a problematic way. Is it because the world cares that deeply about pro-tennis regulations? I don't think so.