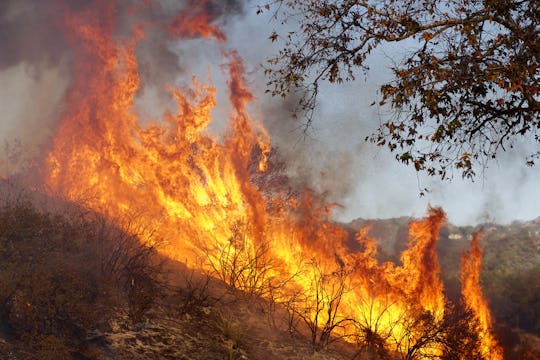 Sandy Huffaker/Getty Images News/Getty Images
This Couple "Adopted" a 93-Year-Old Veteran When A Wildfire Destroyed His Home
With fires engulfing the small Northern California town of Paradise, residents had to evacuate, and quick. But Tracy Grant and boyfriend Josh Fox of nearby Oroville, Calif. wanted to help. So this couple "adopted" a 93-year-old veteran after California wildfires destroyed his home... and at least a little bit of my faith in humanity is restored.
As CNN originally reported, with the story then appearing on Oregon's KPTV Fox 12 news site, 93-year-old World War II veteran Lee Brundige managed to escape with his life by driving himself away as the Camp Fire approached his Northern California home.
Brundige ended up at a parking lot where Grant, who lives 11 miles from the scene of the devastation, was passing out hamburgers in an attempt to help out and accepted a meal, CNN added. But when Grant pressed to be of further assistance, as Inside Edition reported, the veteran insisted on spending the night in his car.
"I didn't like leaving him there, but he's very independent," Grant, 43, explained to CNN. "So I made sure he had blankets and a pillow [and] I stayed with him until about midnight." But when the smoke spread further south the following day and the local sheriff evacuated the area where Brundige's vehicle was parked, Grant couldn't help but get further involved with the self-sufficient senior. "[I] gave him no choice but to come with me," she told the news outlet.
"When I first met him, I knew he was special," Grant, a shop owner, told SFGate.com, a website affiliated with the San Francisco Chronicle. "He was the only person in this parking lot who was by himself with no one else with him. I made it my mission to keep my eye on him. When the rangers came, I went up to him and said, 'You're coming with me.'"
Grant took Brudige back to the place she shares with Fox and pets including dogs Axle and Cash, and called her boyfriend to alert him to the situation, SFGate noted, including the fact that poor Brundige had no fresh change of clothes with him. "I just want to warn you, there's a man in your recliner wearing your robe," Grant told Fox, as SFGate reported. "And he's the cutest little 93-year-old you've met."
The news site noted that Fox then jumped into action by stopping to pick up clothes for Brundige on his way home from work in Sacramento before arriving home and finding that his new guest shares his passion for World War II history. "They hit it off when Lee said he was the littlest guy in his unit so they made him be the tail gunner over the South Pacific," Grant told SFGate.
Grant and Fox have helped the veteran connect with a grown son, should he wish to live with family, CNN reported. If not, however, the pay-it-forward-believing couple is happy to host Brundige as long as he would like to stay. "I thought if that were my grandpa, where would I want him to be," Grant added to SFGate. "We told him this could be his forever home, but that is totally up to him."
Paradise will need a ton of help in rebuilding, and tons of people ranging from first responders to celebrities like Guy Fieri have been on the ground to volunteer. It seems like this is one case in which the tragedy of a natural disaster has brought out the best in people, and it makes my day to hear a story like this one.