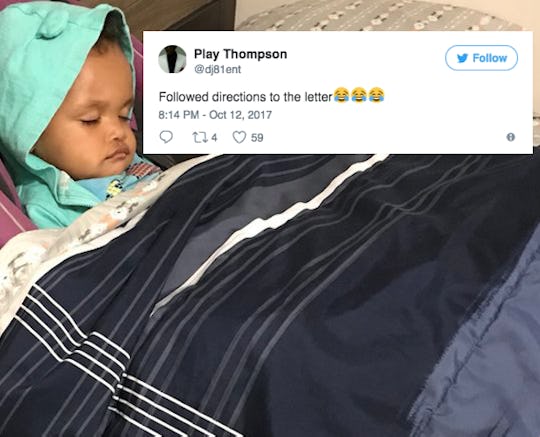 Courtesy of Ashlie Williams
This Viral Photo Of How A Dad Put His Daughter To Bed Will Crack You Up
Parenting is hard, guys, and every single parent has had at least one incident where they thought they were doing everything perfectly — only to realize, to almost comical effect, that they definitely weren't. Case in point? Recently, one dad followed instructions to put his daughter to bed super closely, and the result — shared on Twitter by his partner — had parents everywhere laughing.
Ashlie Williams and her partner, Aaron Cade, live in Baton Rouge, Louisiana, with their 2-year-old daughter London. Last week, Williams was in the middle of washing dishes when Cade came home with London in tow. London was sound asleep in her car seat, so Williams told Cade to "just put her in the bed" and Williams would wake her up later for a bath.
As any good parent would do, Cade did just that: he put his daughter's car seat on the bed and tucked his sleeping daughter in with a blanket. When Williams walked into the room and saw that Cade hadn't even pulled their daughter out of her car seat before tucking her in, she had to walk back out of the room to keep from laughing aloud and waking London up.
"I couldn't be mad because he did EXACTLY what I asked," Williams told BuzzFeed News. She walked out of the room and simply told Cade: "Really, dude?"
Cade's reaction, Williams tells Romper, was confusion: "He literally only said 'What?'"
The next logical thing for Williams to do, of course, was to share a snapshot of the results of Cade's instruction-following on Twitter — where the picture immediately went viral. People chimed in with everything from similar stories (one mom shared an almost-identical picture, writing "Same for my son!") to head-shaking reactions.
Others were quick to defend Cade's choice, chiming in, "He doesn't want to wake the baby up." Another Twitter user wrote: "Smart man ... as soon as he goes to take her out, boom, she's up and ready to play. Happens every time with mine." (Solid approach, Cade — I wouldn't want to wake a solidly sleeping infant, either. There are some things you don't mess with.)
Other Twitter users simply took a moment to appreciate the hilariousness of the shot.
So far, Williams has loved the responses she's gotten on Twitter. "He's a great daddy and I'm overwhelmed by the reactions the post got," Williams tells Romper. She praises "all the daddies that can be so creative."
Considering how many stories were shared thanks to Williams' tweet, it's clear Cade hasn't been the only father to follow instructions to a tee — or the only parent to make careful choices when it comes to making sure the baby doesn't wake up. (If I remember one story correctly, my mother once famously threatened a traveling vendor with imminent death when he kept yelling outside our house during my naps as a baby.)
Parenting is a ride, and it's great to see moments like this captured and giving other families a laugh. As for Williams? She took advantage of her now-viral post to plug the organization she works at, City Year — a non-profit that works to help at-risk students graduate on time. "While y'all are here, my job needs new recruits!" she tweeted, using her new reach for good. "We're looking for people all over the country to help our kids!"
So do yourself a favor by going to read through all of the parental reactions to Williams' post (I promise you'll laugh, you'll cry, and you'll most likely commiserate) and then go see if you can be of any help to City Year.
Watch Romper's new video series, Romper's Doula Diaries:
Check out the entire Romper's Doula Diaries series and other videos on Facebook and the Bustle app across Apple TV, Roku, and Amazon Fire TV.