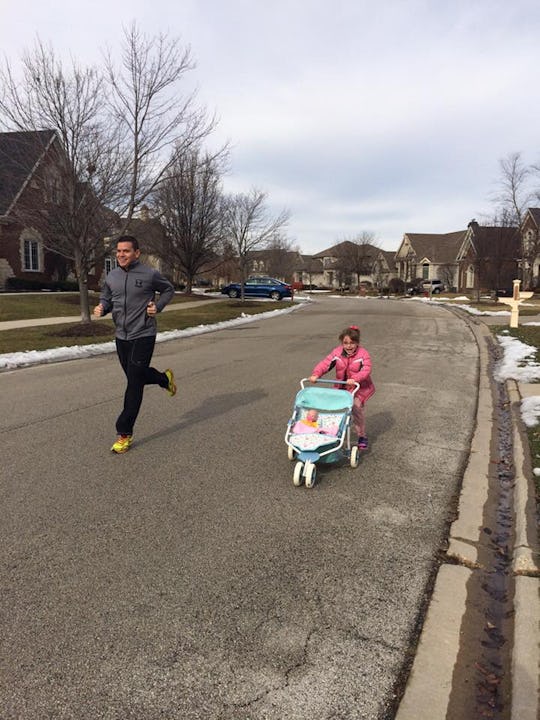 Marathons for Mobility/Facebook
This Dad Ran A Marathon In Every State To Honor His Daughter & It's Super Inspring
Parents usually go all the way for their kids, but this dad ran a marathon in every state to honor his 7 year old daughter, Evelyn, who has cerebal palsy and it's pretty darn inspiring. Kevin Ely was already a marathon runner and after he did a few in a couple different states, he realized that it would be pretty cool to run one in every state. Like a bucket list sort of thing. But after crossing 13 states off his list, he had a chance run in a sponsor of one of the events, the Free Wheelchair Association, which provides wheelchairs for disabled in developing countries. That's when it all came together. Ely told Today that, "I was so impressed by what they did that I made a donation for one wheelchair for $77.91."
"That's when I came to the realization that I wanted to make running these marathons less about me and more about helping out a worthy cause," he said. Because really, at the end of the day, what good are all those finishing medals?
The wheelchair charity really hit home for Ely, whose daughter has had to wear leg braces to walk her whole life. They're super expensive — around $5,000 each, according to Today, but the Ely's are fortunate enough to have good insurance that will cover the costs. And that Evelyn is lucky enough to be able to get around.
That's just not true for most people — especially in other parts of the world where medical equipment is hard to come by. He set a goal of running the marathons for donations to FWA and donating a total of 550 wheelchairs at around $78 a piece. He very quickly raised the $42, 850 to cover the costs. In fact, he actually went over his goal, raising about $45,000 dollars, thanks to the help of his Facebook page "Marathons for Mobility." He wrote in his page to encourage donors that he has "been given so much and it is time for [him] to pay it forward," or "run forward."
He added that whenever starts to get a little worn out from the work, he he thinks of "those who can't run," including his daughter, and that he "runs harder" thinking of them. According to Ely, Evelyn and her sister, Olivia, love to cheer their dad along when he runs. They can't go to every marathon, obviously, but when they can, along with their mother, Sarah, they hold signs and try to high five their dad when he runs by. That's almost as encouraging as knowing you're changing people's lives with the gift of mobility.
Hey, Ely family — keep running.