This Dad Sketched His Wife's Miscarriage, & Perfectly Captured A Heartbreaking Experience
When artist Curtis Wiklund's photographer wife, Jordin, set out to publish a photo each day as part of a "Photo 365" project in 2011, he decided to join in with his own project, opting to regularly publish hand-drawn sketches on his blog. After the project ended, he kept drawing, and he now has a collection of beautiful drawings of his everyday life — many of which involve Jordin and their two young children. But in July, this dad sketched his wife's miscarriage after learning that their third pregnancy had ended, and, in one black-and-white drawing, Wiklund captured the heartbreak and intimacy of that moment better than words ever could. And unsurprisingly, that drawing has hit home with countless others all over social media.
According to TODAY Parents, Wiklund's heartfelt drawings about his too-cute-for-words family first began gaining attention earlier this year when they started making the rounds through social media. And it's easy to see why: Wiklund is unabashedly in love with his wife (who he's known since they were both young kids) and their little family, and that comes through loud and clear in his sweet drawings. But with his miscarriage sketch, it's clear he's struck an entirely different chord — one that not only helps to push back against the feeling that pregnancy loss isn't something to be discussed openly, but that also allows people to relate in a unique way, seeing themselves and their own experiences in Wiklund's sketch as much as they see his.
In his sketch, Wiklund drew the moment that he and his nine-weeks-pregnant wife got back to their car after learning that their baby had no heartbeat. When they got to their car after the appointment, their overwhelming grief hit them, and they both broke down, crying together in the parking lot. But after they returned home, Wiklund says he realized needed to find a way to help himself process what had just happened to them — the kind of devastating loss no newly-expecting couple ever wants to experience. He told Romper,
When I got home, I felt a need to document, to journal somehow. I didn't want to draw [at first], because I tend to draw very positive moments in our lives, and this was too heavy. I tried writing about it, but my words didn't feel accurate. As resistant as I was to drawing it, I decided to be okay with it, and I just cried the whole time.
For some reason I could not stop seeing in my head the image of Jordin and I finding out and grieving in the car. Once the sketch was done, I felt some relief, like I had documented it well, and it could then live on in my sketchbook forever, as painful as it was, as a part of our story.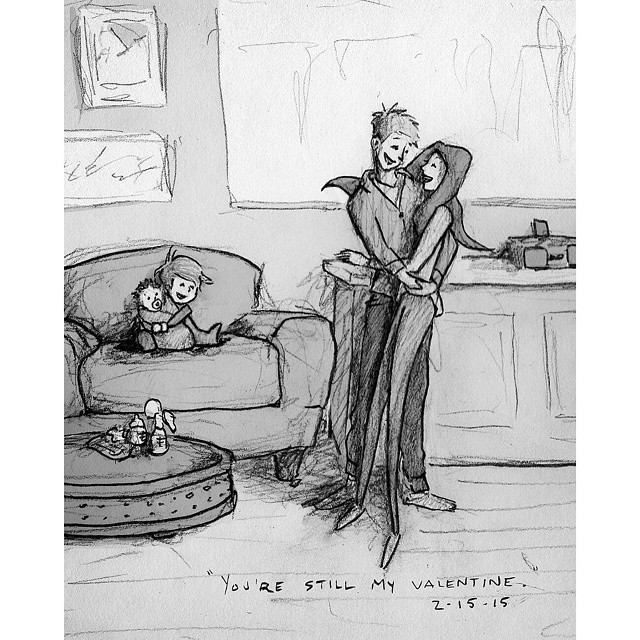 Once it was done, Wiklund says, he found himself wanting to share it, to make the loss public in the way that many people feel they aren't supposed to do, even if it would really support their own healing. He worried though about being open about something so heartbreaking, and wasn't sure whether his wife would be on board, but after the couple spoke about it, Jordin told Romper she agreed there was value in sharing the experience with others, even if it was difficult to do so:
After the miscarriage, one of the greatest gifts during that time were the friends who reached out to me who had miscarriages in the past, who could relate to what I was going through. Because it's such a deep and personal loss, it's hard to imagine that anyone else can relate, that I wasn't the only one. On social media, it's worse, because we're all about putting out our very best, and that can be really difficult to keep up with. In the real world, people are struggling. Things happen to us that we never thought would happen to us.
I think it is important to acknowledge those things, and to be real about them. Miscarriage is a very lonely experience, and if Curt's sketch could help others feel the comfort I felt from friends knowing that I wasn't alone, then it was worth it to share it.
Judging by the reaction the sketch has received, it certainly seems to be something that has helped and comforted a lot of people, giving them a way to relate and to feel their own experiences. Many commenters on his Facebook page wrote about how much the drawing reminded them of how they felt when they'd received similar news, and of the particularly difficult feeling of not knowing how to feel or whether they should say anything about it to others. And yet, like anyone who has endured a pregnancy loss knows, the pain and grief is intense and very real, and struggling to cope with those feelings alone can be incredibly isolating and painful.
The couple, who work together as professional wedding photographers, have often shared snippets online of their lives together on their website and through their various social media channels. And while this latest offering certainly feels much different from their usual, happy, heartwarming photos, there's no doubt it's left an important and extremely valuable impact — proof that there is no shame in sharing pregnancy loss grief publicly, and that it can, and perhaps should, be an option for anyone who feels like keeping it to themselves is not helpful.
Despite sharing the post with the hope of helping others, Wiklund says he was still pretty surprised that it's gotten as much traction as it has. But that feedback also made it clear that making the sketch public was a good choice:
Reading all the personal stories in the comments on Instagram and Facebook felt like verification that sharing it was the right thing to do. We were totally surprised it, [but] sharing our experiences is important. It is healing.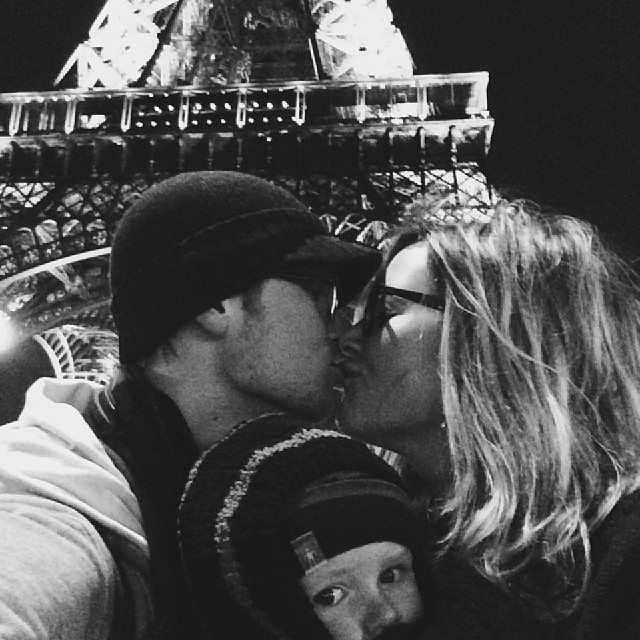 Pregnancy loss is something that is never easy to experience, and it can be extremely hard to wade through the resulting grief once it's happened. But Wiklund's heartfelt drawing shows that there are far more people out there who can relate than perhaps anyone realizes. Perhaps most importantly though, he's also showed that that connection doesn't always have to take the form of a conversation, or some kind of formal attempt to heal. Even a simple drawing can have a huge impact.