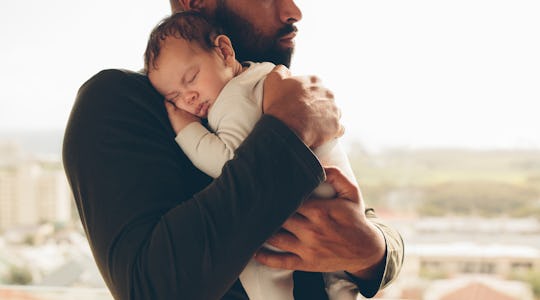 Fotolia
This Dad Was Forced Out Of A Family Room While Trying To Change His Baby's Diaper
As a 90s baby, I have some anecdotal memories of my single dad being forced to ask strange women in grocery stores, bowling alleys, and other public places to take me into the restroom and change by diaper because there were no changing tables offered in his own. While I would like to report that this is an issue that has been solved in the past two decades, that is not the case. As recently as last week, this dad was asked to leave a parents' room when changing his kid because "mums were around," and his wife took to Facebook to express her frustration at being a part of a larger problem.
Sarah Fa'avale and her husband Tua live in New Zealand and are parents to a 4-month-old little girl named Tahani. According to Fa-avale's Facebook post, on August 9 the family visited the Queensgate Mall in Wellington, New Zealand, that they could order a new carseat. But, "Of course, low and behold she would start doing her poop face while sitting in her pram," she wrote. At that point, her husband headed to a family changing room in the mall to take care of the dirty diaper. But it wasn't long until he came back looking distressed after being asked to leave, according to Café Mom.
As Fa'avale wrote, the reason her husband was asked to leave was because there were "mums" in the room that felt his presence was inappropriate:
While I was ordering a new car seat for Tahani, Tua took her to the parents room to change her nappy. When he went to enter however, a lady started yelling at him saying; "um excuse me!!! you can't go in there, there's mums in there!". Tua then had to leave to come and find me to change Hani's nappy as all this time she was sitting in her poos!
Tua isn't alone in his experience of not having a place to change his daughter. As few and far between as changing facilities are for moms, dads often have an even harder time finding somewhere to change their little one. Many a dad has had to change a diaper on a dirty bathroom floor, leading to numerous viral calls for change. Despite it's presence in occasionally political debates with support for it coming from both Democrats and Republicans, New York remains the only state that has a mandate in place requiring changing tables in every one of its public restrooms.
Numerous of Fa'avle's followers could relate to her post and her husband's struggle. Several people pointed out that there are curtains to facilitate privacy for moms. One such person wrote:
That's absolutely shocking!! They have curtains for feeding mothers who want privacy in those rooms and that's not even the point! They are parents rooms! I've seen plenty of dads changing babies in palmy! That's just unreal that woman needs her head checked!
As Fa'avale's followers discussed in the comments, dads are parents, too, and need the opportunity to pull their weight in parenting duties. Another commented to say that, fortunately, Fa'avale's experience isn't the norm:
Um dads are in there all the time! That opinion is DEF not the norm and so sorry that you guys had to go through that, that's absolutely ridiculous what a stupid woman.
In her post, Fa'avale said that she has "never been so mad in [her] life" and added in response to a comment that she went on to make a formal complaint at the mall. As unfortunate as her experience was, it is important that she shared her story and continued the conversation about an issue that affects parents everywhere.