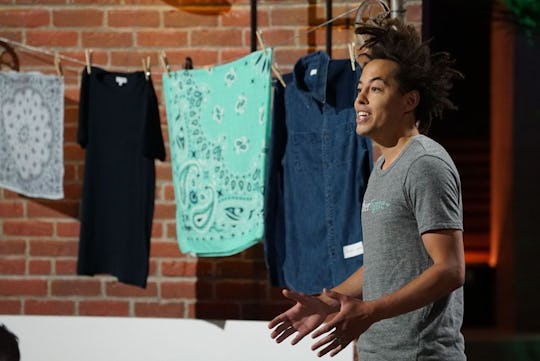 Eric McCandless/ABC
This Dad's Line Of Paternity Clothes Proves Men Wear Fatherhood Better Than We Give Them Credit For
Two billion dollars: that's how much the maternity wear industry is worth domestically, according to a 2016 report by Fast Company. It's an industry that 6 million women a year, in the United States alone, will need in some way. As it continues to grow, Andrew Bentley, founder and CEO of Father Figure, is pushing to tap into a new market: paternity wear, a fashion line for fathers to wear in parental moments. On Sunday, Oct. 29, Bentley will pitch his paternity clothing company to the celebrity investors of ABC's Shark Tank. But, beyond the tank, Bentley's company is doing way more than just dressing fathers in well-designed utility clothes. He's helping restructure the millennial father archetype.
Bentley first realized there was a void in the market when his wife was pregnant. "In the nesting preparation process where we were buying a crib, buying baby clothes and ... looking at research on how to actually be a parent, it was clear to me that most things ... were focused on the mother experience," Bentley tells Romper a few days before his Shark Tank episode is set to air. "The role of dad was typically secondary or as a support to the mother," Bentley says, noting that he always wanted to be a father because of the extremely positive relationship he had with his own.
At the point in his wife's pregnancy where maternity clothes were a must, Bentley, only half-joking, blurted out, "I want paternity clothes!" to his wife. "She was talking about all these maternity clothes she was buying and I was like, I want [that]!" Once his son was born, the feeling of wanting to be recognized as a nurturing, "potentially primary caretaker" of his son didn't go away. In fact, it was the early stages of being a father that inspired Bentley to create clothing for involved dads, a market no one else seemed to recognize. "I kept losing my burp rag at all the wrong moments," Bentley says. "I bought a glue gun and put a little loop on my shirt, and put burp rags there." That idea, that small but incredibly useful loop, is now featured on two of the paternity line's items, The Booker denim shirt and The Luca tee.
When they surveyed 350 millennial dads, Father Figure found that 84 percent wish parenting-related companies better understood their needs. Eighty-five percent of those surveyed said they'd be interested in apparel and gear designed for the "dad experience." So, with the research in hand, Bentley left his job at Google, became a part-time, stay-at-home dad, and launched a line to fill the void for those fathers who want to be just as embedded in the caretaker experience — and have a place to put their burp cloths.
Do dads actually need a burp cloth hook sewn into their shirts? You could argue that no one has ever offered them to moms, and women have done just fine. But, to Bentley, another purpose of the clothing line other than functionality is to really acknowledge fathers' involvement. You wouldn't need or want anything he's selling if you weren't an engaged father. Father Figure is about making millennial dads feel seen.
That desire for greater visibility for dads was part of Bentley's motivation in applying for Shark Tank. For many of the 45,000 applicants who apply each season, the main objective of getting onto the show is to gain notoriety for your product while hopefully securing a partnership with one of the business-savvy "sharks" in the tank that season. For Bentley, who was actually approached by a producer of the show who saw his successful Kickstarter, finding a backer was important, but another big draw was the opportunity to use Father Figure to showcase dads' experiences on a national level.
"One of the big pros for me, even if I didn't get a deal, was to articulate my vision for dads and to show the world that I'm a loving father." Bentley is hoping his appearance on the show is also a lesson in combatting negative stereotypes for fathers — especially fathers of color — in media, ads, and TV. "I think the media and the content we see tends to confirm the stereotypes that dads are often the support role or the goofy, fun guy..." Bentley says. "I think that message is particularly strong and cruel when it comes to dads of color. It really creates a lot of cognitive dissonance for me because that's not my world and that's not the reality. There's this widespread perception that [fathers of color] are absent and the worst-case perception is that we're neglectful or violent. I think that's cruel and it's just wrong."
Because of that, Bentley decided to use his opportunity on Shark Tank to not only pitch his products, but to fight back against the stereotypical images fathers of color face in the media. During the filming of his episode, Bentley decided to bring with him two other dads of color, with babies in hand, to model and display the Father Figure line.
"I wanted to make sure that the dads who surrounded me were dads of color because I wanted to show the world that [that stereotype is wrong]. I'm proud of that you'll see two dads of color standing up there with me being very loving to their children."
Father Figure is a company, but for Bentley it's more than that. "I got a note from a new mom in Brooklyn who bought the Bundle Of Joy [for her partner], which is the most popular purchase," he says. "She sent me a note after she bought it and she said, 'Hey, I just wanted to tell you that this is not only a gift for the dad but it's a gift for the mom because it helps me articulate how important it is that he's with me and we're a team. It empowers him.' I just loved that note."