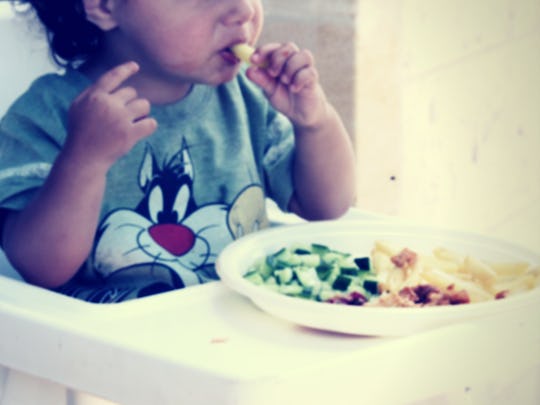 Pixabay
This Dad's Message About Reading Labels After His Daughter Reportedly Choked Is Crucial
For dad Justin Morrice, every parent's worst nightmare came true last week when his baby daughter, Annabelle, suddenly couldn't breathe while having lunch. In a Facebook post, Morrice tells the story, and social media agreed that this dad's message about reading labels after his daughter reportedly choked is crucial for parents to read.
Morrice said that his daughter was in her high chair, finishing up her lunch — which included a few Gerber's Little Crunchies, a cheese-puff type snack meant for babies who have "reached the developmental milestone of crawling." Morrice, who had turned away from her to rinse a dish in the sink, realized that she was trying to cry but not making any sound, and immediately picked her up, turned her over and slapped her hard on the back "as we were taught," he wrote — an allusion to parenting and CPR classes that teach the proper technique for helping a baby or child who is choking. When this didn't work, he did "the only thing he could think of":
I rammed my finger into her mouth and down her throat and was able to squish the cheesie enough that the next thing I heard was the sweetest sound in the world...her crying. I flipped her over again and slapped her back and with the force of her crying it became dislodged and I was able to sweep it with my finger out of her mouth. It was the longest and scariest min of my life.
He then called his mom, who came straight over to calm him and Annabelle down. It was his mother who noticed — upon closer inspection of the can of snacks — that there was a warning on the can that said to discard it within five days of opening. Morrice was confused, so he opened a new can — and immediately noticed a difference in the consistency of the snack food.
I could not believe the difference. The ones in the can she choked on I can only describe to be like a foam ear plug. I could squish it but it would expand back out and would not break apart. The ones in the new can crumbled with ease.
On Gerber's website, the product page for the snack notes that the food should be used "within five days after removing seal for optimal freshness," but doesn't note the lack of freshness could pose a choking hazard. It does, however, note that the snack isn't suitable for babies who aren't yet "self-feeders," and that "This product should only be fed to seated, supervised children who are accustomed to chewing solid foods."
Gerber responded to a request for comment on Morrice's story with the following statement via email to Romper, commending Morrice for sharing his experience and outlining why they use milestones, rather than a child's age, as guidelines on their products:
The safety of Gerber products and the children who consume them is our top priority. We are sorry to hear of this parent's experience and we commend him for sharing with other parents to emphasize the importance of supervising children while eating and reading product labels. Gerber products feature a milestone symbol on packages that help guide parents to the foods their child may be ready for based on developmental milestones rather than age. We use milestones such as "Crawler" and "Toddler" on products rather than age because research has shown that children develop feeding skills at different rates and over a range of time. Our Lil' Crunchies snacks are designed for children at the "crawler- stage." Children in the crawler stage may be ready for these foods if they demonstrate certain physical signs and eating skills, such as crawling with the stomach on the floor and beginning to use the jaw to mash food. Our team of internal and external experts evaluate and test our foods to determine the applicable milestone.
As part of our process to continually improve, we consider consumer input when we design our products, labels, and educational materials. We will include this feedback into that ongoing process.
Morrice said in his Facebook post that he didn't mean to "degrade Gerber in any [sic] way" — he just wanted to remind busy parents to be sure to carefully read the labels on snack foods. "So many products post warning labels," he wrote, "but unless u scan the product you can get "lazy" as parents and it becomes routine."
Morrice also reported on Facebook that his daughter Annabelle is perfectly fine.