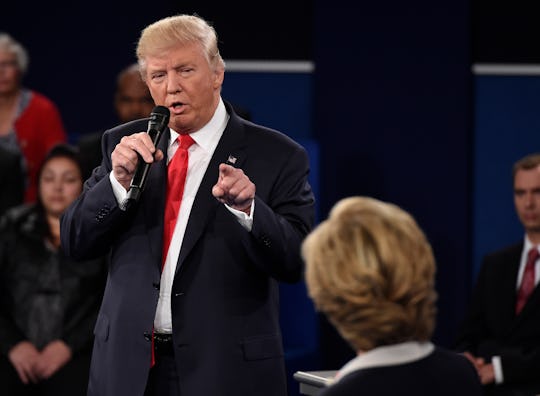 SAUL LOEB/AFP/Getty Images
This Debate Tweet Is Going Viral For A Truly Fantastic Reason
The second presidential debate was a whirlwind from start to finish. It barely took Republican nominee Donald Trump any time at all before he started attacking Democratic presidential nominee Hillary Clinton and making a series absurd comments, including the suggestion that Muslim Americans should police each other. One Twitter user was quick to put Trump on blast after making this statement. Moustafa Bayoumi's debate tweet quickly went viral for a truly fantastic reason: he was just doing what Trump told him to do.
Moustafa Bayoumi just so happens to be a Muslim American. When Donald Trump said that Muslim Americans should be policing each other, Bayoumi took initiative. He posted a tweet reading "I'm a Muslim, and I would like to report a crazy man threatening a woman on stage in Missouri." What's that phrase again? Oh, right. If you see something, say some thing. Well, Bayoumi definitely did say something.
Bayoumi's hilarious call out quickly became the tweet heard round the internet. Twitter reports it was the most re-tweeted post of the debate. More than 75,000 people found truth Bayoumi's words.
Bayoumi is the author of This Muslim American Life and How Does It Feel To Be A Problem, as well as many other books. This Muslim American Life is a collection of essays describing what it's like to be muslim in a country that thrives on fear. Amazon describes Bayoumi's book:
In This Muslim American Life, Moustafa Bayoumi reveals what the War on Terror looks like from the vantage point of Muslim Americans, highlighting the profound effect this surveillance has had on how they live their lives. To be a Muslim American today often means to exist in an absurd space between exotic and dangerous, victim and villain, simply because of the assumptions people carry about you.
Bayoumi continues this mission of helping people understand the struggles of Muslim Americans by working as a professor at Brooklyn College, as well. Bayoumi also uses his Twitter account, like he did for tonight's debates, to talk about these important issues.
Even Shonda Rhimes, the powerhouse television producer behind Grey's Anatomy, Scandal, and How To Get Away With Murder, caught wind of Bayoumi's tweet and declared it to be "The Best. Tweet. Ever."
What Rhimes, and all those people who retweeted Bayoumi understand, is that the culture of fear in our country is unsustainable. Trump cultivates, enhances, and thrives on that culture of fear with his xenophobic rhetoric. He has tapped in to a problem in our country that needs to be addressed.
Trump is a predator, as evident by the recently leaked tapes from 2005 that exhibit him saying deplorable things about women. Yet he has the audacity to turn around and say America has a Muslim problem. America has a Donald Trump problem. And Bayoumi called out his hypocrisy perfectly.