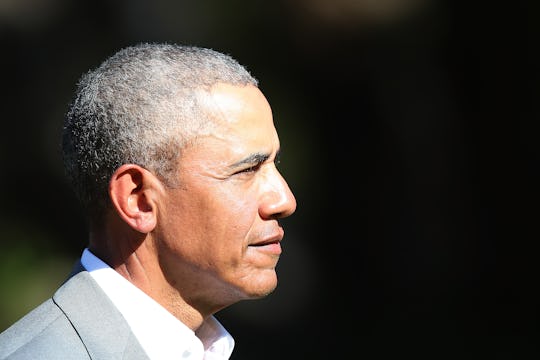 Hannah Peters/Getty Images News/Getty Images
This Elementary School Is Ditching Its Confederate Namesake & Will Now Honor Obama Instead
It's hard to believe that, in 2018, confederate symbols still exist. Fortunately, though, people are taking action more and more often to replace them with positive and progressive messages that honor truly iconic leaders. One school board and government in Virginia has done just. According to CNN, an elementary school in Richmond once named after a Confederate general has renamed itself to honor President Barack Obama in the city once referred to as the "confederate capital."
The students of J.E.B Stuart Elementary School in Richmond, Virginia, will return to their school in August once summer is over with one major change — they will now be students at Barack Obama Elementary School, according to CNN. This decision that was made by a majority of the members of the school board in favor, passing the name change in a 6-1 decision, according to the Richmond Times-Dispatch. This is a positive change, according to the Richmond Times-Dispatch, especially since the school has a "student population of more than 90 percent black students."
Members of the school board had initially declared their intention to rename the school to no longer honor the Confederate general, J.E.B Stuart — who was the "eyes and ears" of the Confederate Army and died in Richmond, according to The History Channel — and find an alternative, according to the Richmond Times-Dispatch. Talk of a name change was inspired after a rally to save a Confederate monument in Charlottesville, Virginia, last summer left one dead, according to ABC News, leading a "renewed interest" in removing Confederate symbols or renaming tributes to Confederate leaders.
Richmond Public Schools spokeswoman Kenita Bowers told ABC News that this wasn't just a decision led by the school administration or the school district, but that "the community called into question" whether the school's name needed to be changed. And ultimately, they decided to have the school "named for someone who probably represents the community in an all-inclusive way," according to ABC News.
Throughout the past few months, people from all over the community were able to contribute their ideas on the name change, finally coming down to a few finalists, according to the Richmond Times-Dispatch. But Barack Obama Elementary, which was second place in the popular vote, was chosen by the elementary school's administration as their "recommended" school name choice, according to the Richmond Times-Dispatch.
Richmond public schools superintendent, Jason Kamras, told the Richmond Times-Dispatch that he could not be happier with this decision:
It's incredibly powerful that in the capital of the Confederacy, where we had a school named after an individual who fought to maintain slavery, that now we're naming the school after the first black president. A lot of our kids, and our kids at J.E.B. Stuart, see themselves in Barack Obama.
Kamras is right; naming the elementary school after Obama is a positive choice, especially considering everything that the 44th POTUS has done for people in the United States, including schoolchildren. During Obama's presidency, the high school graduation rate hit an all-time high at 83.2 percent during the 2014-15 school year, according to NPR. During his time in office, Obama also advocated for stronger preschool programs so children could do better in schools "down the road," according to NPR. In addition to being the first black president elected into office, according to The Guardian, the Obama administration helped lower the unemployment rates in black communities, was able to cut the amount of uninsured "non-elderly African Americans" through the Affordable Care Act, and was pivotal in the drop in African American children living in poverty, according to the White House.
And Obama's wife, former first lady Michelle Obama, had just as strong of an impact inside of elementary schools. Through her platform as first lady, she was able to make school lunches healthier, according to Politico, allowing the USDA to put more fruit, vegetables, and whole grains onto students lunch trays. And through her Lets Move! campaign, she aimed to tackle childhood obesity, according to NBC News, by inspiring young children to be active and eat healthier, according to Modern Healthcare.
People on Twitter seemed to agree with the decision to rename the elementary school after Obama.
This isn't the first elementary school to be renamed in honor of Obama — as of January 2017, there were 19 schools named after Barack and Michelle Obamas, according to Education Week. In 2008, shortly after Obama was elected, one elementary school in Hempstead, Long Island, became the first school to change its name to Barack Obama Elementary School, according to CBS News.
But this most recent name change at the elementary school in Virginia is reportedly the first school to drop a name of a Confederate general to honor the 44th President of the United States, according to WTVR. Though there is a lot that needs to done to keep progressing forward, renaming this school after a deserving icon like Obama is a great step in the right direction.