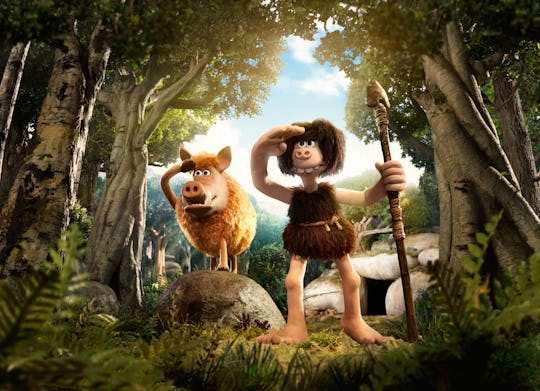 Lionsgate
This Exclusive Clip Of 'Early Man' Finds Dug Falling For The Oldest Trick In The Book
The Lionsgate movie Early Man, which comes out Feb. 16 in the U.S., follows a caveman named Dug as he undertakes a difficult mission to unite his tribe so he can save their home from Bronze Age antagonist Lord Nooth. But Dug will have a lot of obstacles in his path to victory, as this exclusive clip from Early Man shows. The brief scene makes it clear that not all of the problems will come from outside forces, either; it seems like Dug can't help but get himself into trouble, even when he's not trying.
Dug is voiced by Eddie Redmayne (though you only get to hear him say a few lines in the clip), but he's not the only big name attached to Early Man. Tom Hiddleston will provide Lord Nooth's voice, while Maisie Williams and Timothy Spall portray a vendor named Goona and the chief of Dug's tribe, respectively. You don't get to catch a glimpse of any of them in this clip, but it definitely includes a must-see moment. The video is all about Dug and his sidekick, a wild boar named Hognob.
The clip begins with Dug and Hognob tiptoeing into what appears to be a Bronze Age arena. The surrounding statues, armor, and columns are pretty big hints about the era because they all feature an excess of gleaming bronze. However, both the field and the spectator stands are empty because it's after dark. Dug and Hognob are sneaking in, but the reason why isn't obvious at first.
Dug makes an attempt to go down into the stadium itself but he's foiled by something that has tricked many people who are a lot farther down the evolutionary chain than him: a really clean sliding glass door. None of us are proud of it, but plenty of us have smacked into a glass door on the way to the backyard before. It happens to the best, but Dug is a little more amazed at the "strange magic" of the door than his modern counterparts would be.
Nevertheless, Dug and Hognob quickly realize their error and the boar pulls the door open so Dug can investigate further. However, Dug's attempts to be stealthy immediately come to a crashing halt when he trips over a caution sign (ah, the irony) and goes flying down the seats of the arena. Whether anyone hears his colossal fall or not is a reveal that will have to wait until the film's February 16 debut.
While the exclusive clip doesn't provide a reason for Dug's decision to creep into the stadium, the full length trailer for the film does hint at one. It seems like the villainous Lord Nooth has promised that if Dug participates in a game of soccer and wins, he can have his tribe's valley back. One can speculate that Dug might be trying to get a look at the field where he'll have to play. Becoming more familiar with the terrain would certainly give him an edge — as long as he manages not to get caught, of course.
If the animation of Early Man looks familiar, that's because the film is by the same person who created Chicken Run and Wallace & Gromit: Nick Park. If you were a fan of either film, it's fair to assume you might also find yourself charmed by this stone age adventure. Plus, if you're a football fan then you might be delighted by the film's explorations of its origins — and how those origins tie into the creation of the eerie stone circle known as Stonehenge.
This exclusive clip can give prospective viewers a taste of what the full-length film might be like, and in the process makes it seem like Early Man will be a fun trip back into the very distant past.
Early Man hits theaters on Feb. 16.
Check out Romper's new video series, Romper's Doula Diaries:
Watch full episodes of Romper's Doula Diaries on Facebook Watch.