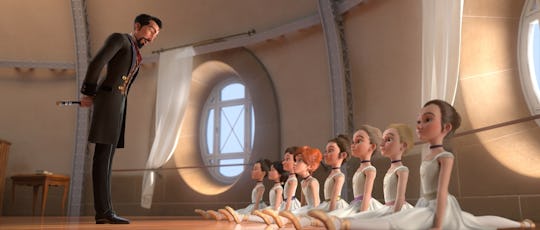 Courtesy of The Weinstein Company
This Exclusive Clip From 'Leap!' Teaches Kids A Very Important Lesson
Film animation has grown leaps and bounds since we were kids. With digital creation always changing and growing, films that are being released today are truly charting new territory, and children are really benefiting. Fortunately, there's nothing stopping adults from enjoying the benefits of improved technology and animation as well, and Leap!, which will be released on August 25, is the perfect film for kids and adults to be swept away by. Whether it be the gorgeous and complex animations or the beautiful and grounded story Elle Fanning's character, Félicie, presents to audiences.
Leap! tells the story of Félicie, a young orphan living in a small village in Brittany, France in the 1880s. She, like many young girls, dreams of moving to Paris to become a ballerina. Her best friend and fellow orphan, Victor, also aspires to see more than the small, tightly-run orphanage they reside in; Victor wants to be a world-famous inventor. They decide to turn those dreams into reality by running away from their home and traveling to Paris. Once there, Félicie wiggles her way into the Paris Opera Ballet's dancing school by pretending to be Camille, a snobby young ballerina. She's helped along the way by Odette, the enigmatic caretaker who offers Félicie a place to stay. Félicie, though possessing a lot of natural talent for dancing, lacks the technique of the other girls her age due to her never having been trained before.
In an exclusive sneak peak, Félicie arrives for her first day at ballet school and immediately realizes she is in a bit over her head. Through a series of slip-ups, like forgetting her name and misinterpreting another ballerina's suggestion to "warm-up" as a reference to the temperature of the room, Félicie barely makes it through her first day. Check out the clip below to see exactly how much of a fish-out-of-water scenario she has gotten herself into.
Leap! is a French film, originally titled Ballerina, and was first released in December 2016 in France. In the American version, Elle Fanning stars as Félicie, accompanied by Nat Wolff, Carly Rae Jepsen, Maddie Ziegler, and Kate McKinnon. Music-wise, it promises to be great with original songs by Carly Rae Jepsen and Sia, and a score by Klaus Badelt of Pirates of the Caribbean fame.
Leap! is all about not being afraid to take that titular leap and follow your dreams, but it's more than that. It teaches the lesson that goals aren't always achieved as easily as we'd like them to be; it's the hard work and dedication that really pays off. And, as the clip above shows, being yourself and owning your own presence is an important lesson every kid can learn. Plus, being led by an ambitious, adventurous, and enthusiastic young girl, this movie is sure to be inspiring and delightful for all ages.