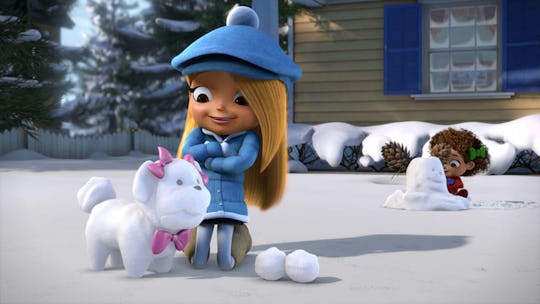 Universal Pictures Home Entertainment
Check Out This Exclusive Clip Of 'Mariah Carey's All I Want For Christmas Is You'
There's no debating that Mariah Carey's iconic "All I Want For Christmas Is You" is one of the greatest Christmas songs of all time, but it's now moving beyond the medium of musical notes. The song will be lending its title to a brand new animated children's movie, which is executive-produced by Carey herself. But you don't have to wait until the film's release to get a taste of what's in store, thanks to this exclusive clip of Mariah Carey's All I Want for Christmas Is You, which is guaranteed to get you in the holiday spirit. The full movie will become available on Blu-ray, DVD, and digital starting Nov. 14, just in time to start preparing you for the holiday season.
The clip is narrated by Carey, who explains what's going on as her animated alter-ego Little Mariah drafts a letter to Santa Claus. Apparently Little Mariah's parents won't allow her to have a puppy even though that's all she wants in the world, so she's taking her demands to upper management, i.e. Santa. Based on the sheer amount of doggie stuffed animals gathered on one shelf, it's clear this girl is not messing around when it comes to pups. She's on a mission.
In the narration, Carey claims that Santa knows she deserves a puppy, but for some reason he just can't seem to get it together to deliver one. She theorizes that this is because the North Pole is poorly run, imagining a few scenarios that could have led to the lack of puppy in her life: a careless elf losing her letter, or an absent-minded Santa leaving gifts behind before he sets off in his sleigh. Little Mariah delivers some serious Santa shade in this clip an dI am here for it.
The summary for Mariah Carey's All I Want for Christmas Is You makes it clear that the movie will be all about Little Mariah's desire for a pet. After seeing a puppy named Princess at the pet store, she makes her first request for a canine friend. There's also the small matter of a girl-and-dog holiday fashion show that Little Mariah has signed herself up for, even though she's short one pooch. She needs a dog desperately to help walk her down the runway — and of course to keep her company. However, her parents decide that first she has to prove she can actually take care of one by dog-sitting her uncle's dog Jack, who doesn't have an ounce of Princess' presumed royal pedigree.
Carey previously released a trailer for the upcoming movie on her Instagram account, and it gave a few more glimpses at the adorable holiday fun Little Mariah will be getting into with troublemaking puppy Jack. After Jack steals a steak and rampages over presents, it might prove that Little Mariah isn't quite ready to take on a dog of her very own. Jack's shenanigans cause tons of trouble on Christmas, but something tells me it will all work out in the end. Whether Princess or Jack finds a permanent home with Little Mariah, it's sure to reach a heartwarming conclusion.
The animated movie found its inspiration not only in Carey's hit song, but in the illustrated children's book of the same name that Carey penned a few years ago. The movie elaborates on the story, and also makes things even more musical. It will feature a new original song by Carey called "Lil Snowman," as well as some of Carey's other Christmas songs and, of course, "All I Want for Christmas Is You."
Fans won't want to miss out on a Carey-scored Christmas spectacular, especially one that can be enjoyed by the whole family. It promises to be the perfect addition to any holiday celebration.