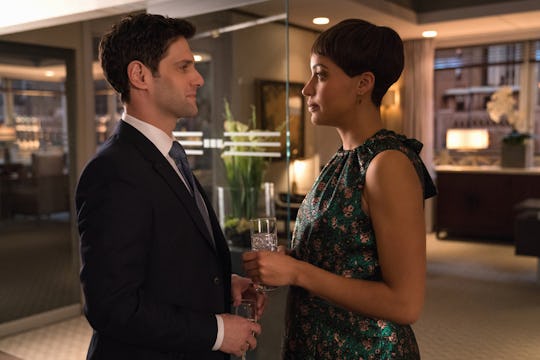 Elizabeth Fisher/CBS
'The Good Fight' Tackles A Huge Concern Working Moms Face In This Exclusive Clip — VIDEO
As any working mom will tell you, maintaining a career while also raising a family can be like a very careful juggling act. You're trying to keep your own identity and goals in tact while also being a parent and giving your attention and care to the role of motherhood. And it looks like the topic of working moms on The Good Fight is going to be tackled in a very important way during Sunday night's episode. In an exclusive clip obtained by Romper, Lucca reveals that she's pregnant to the partners at her law firm, but quickly follows up the announcement with another declaration about her maternity leave. Lucca explains that they should only expect her to be out of work for a total of three days once the baby arrives and that prior to the birth she'll be scheduling all necessary medical appointments around her work schedule, making her productivity in the office go uninterrupted.
Right away, it touches on the very real struggle many working moms face. I'm referring to those who, of course, want to devote their time and energy to their children, but who also want to be able to continue on with their own career ambitions. For Lucca, that means going back to work much sooner than most new moms might do, but there's also nothing wrong with her decision. In fact, it's a refreshing take on what it means to be a working mom — and a new one at that.
Being a working mom is a constant balancing act that can be tough to master. There is always that guilt over whether or not you're doing enough, both at home and at work. That's what makes Lucca's decision so great — she is confident in what she wants to do and makes it clear right up front that she doesn't want to be treated any differently. It also highlights a very real fear many women going on maternity leave can face — being passed over for promotions or opportunities if they're gone too long.
What's interesting is that Cush Jumbo, who plays Lucca on the show, is actually pregnant in real life and her line of thinking when it came time to tell the producers of The Good Fight about her pregnancy was similar to that of her character. She was instantly concerned that, following the reveal of her pregnancy, her role would be "downgraded," as she told E! News during an interview. She worried that her character would be resigned to hiding her growing belly behind large clothes and other items on-set. "Your professional head kicks in and…there's a big panic…I've worked so hard to get to this place," Jumbo said. "So then, [the producers] were so excited about it, because the prospect of the narrative and the fact that [Lucca] and Colin aren't together, that they'd have to navigate this situation."
For Jumbo, the producers and writers behind The Good Fight decided to write in her real life pregnancy rather than hide it and, in turn, potentially use Lucca less in the current season of the CBS All Access series. But like her character, Jumbo's concerns were very real and certainly the same kinds of worries that any working mom or working expectant mom has as well.
Sadly, the struggle never really ends, even after a pregnancy, but the name of the game is finding the perfect (or at least close to perfect) balance between pursuing your career and being a mom — even though you never really leave either of the roles whether you're at home or at work.