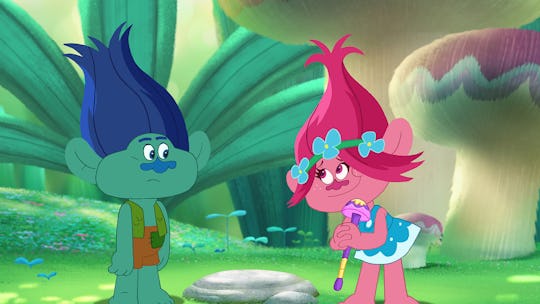 Netflix
Season 3 Of 'Trolls' Is Coming To Netflix Soon So Get Your Kids Excited
Parents, aunts and uncles, grandparents, and babysitters all know it: kids love a show populated by colorful, imaginary creatures. I'm thinking Smurfs, Muppets, and yeah, Trolls. Luckily for parents, DreamWorks' Trolls: The Beat Goes On! is back for another season on Netflix on August 24. And Romper has an exclusive clip from Trolls Season 3 to give parents and little ones alike a taste of the new adventures afoot. As usual, there's never a dull moment in Troll Village — most of which is set to extremely upbeat and groovy music. And no, I can't promise that you won't have these songs stuck in your head for the remainder of your day.
In the clip, the Trolls discover a mysterious chest filled with what looks to be Troll costumes, some uncanny Troll masks, and a detailed journal noting all of the Trolls' habits and routines. Poppy declares that it is probably just an "emergency costume party box," and everyone agrees. Branch is convinced that the Trolls have an imposter among them. And then everyone mocks him for being a conspiracy theorist and they sing an entire song about it. So imagine Branch's surprise when everyone else leaves and Poppy immediately starts freaking out about the imposter! She says she tried to play it cool in front of the others so that nobody would freak out. Good plan.
I don't know what comes next for the Trolls in Troll Village, but something tells me they'll figure out a solution in the end. After all, this is a show geared toward 3 and 4-year-olds, it's not a gritty HBO drama. That said, things are still changing for the lovable Trolls in the next season. According to a synopsis of the show, Branch will be learning the Trolls martial art of "hair-jitsu," Smidge has a crush on the village "critter-narian," and DJ Suki tries to host the best party ever. I'm still trying to imagine what, exactly, hair-jitsu entails but I'm pretty excited to see it.
Most reviews of the show agree that it's not geared toward entertaining parents as much as it is towards entrancing little ones. And they will certainly be entranced. If your kids already loved the first couple of seasons and are hoping for some more adventures from the Trolls then you are definitely in luck. If you were looking for the kind of show that will keep you on the edge of your seat as well as your kid — well this might not be the show for you.
That said, you can't put a price on a child's happiness. And sometimes that comes with watching a bunch of pink and blue cartoons sing songs about friendship and goofy hairdos. The show stars Amanda Leighton as Poppy, Skylar Astin as Branch, and Ron Funches as Cooper. Funches played the same character in the Trolls movie that the show is based off of. However all the other voice actors are new to the world of Trolls.
Season 3 of Trolls: The Beat Goes On will be available for streaming on Friday, August 24.