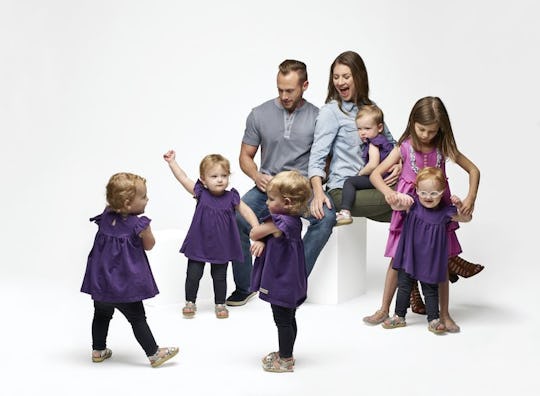 TLC
Adam Tries To Cheer Danielle Up In This Exclusive 'OutDaughtered' Clip
Though it's still summer in half of the world, the Busby family is in the middle of celebrating Christmas on OutDaughtered. The festivities began during a disastrous visit to Santa Claus, during which every last one of the quintuplets ran in fear rather than say hello to Santa. Adam and Danielle took it in stride, but it seems like the stress is ramping up in this exclusive OutDaughtered clip, which is why Adam decides to plan something nice for Danielle.
The details of the surprise aren't explained in full, but Adam tries to get the quints on board anyway. The holidays are always a tough time: there are schedules to coordinate, family to meet up with, presents to buy, and all kinds of complications to navigate. It gets even more difficult when you have six young children to wrangle along the way. The kids made Adam hesitant about attending Danielle's family's Cajun Christmas, but it looks like even their other plans might not be going well.
When the clip begins, Danielle is about to leave the house to check in on Rush Cycle, the fitness studio that she and Adam run with some other friends. She hasn't been there since before the holidays, so she needs to take care of a few things. Before she heads out the door, Adam asks how she's feeling and Danielle says that she's feeling better, but that she's still trying to get some energy back.
At that moment, one of the girls thoughtfully offers Danielle a cookie that she pretend to chomp down on. But not long afterwards, Danielle has to get going, so Adam tells the girls to let her know she can take all the time she needs. They do not pass on the message, but I think Danielle understood just fine anyway. As soon as she's gone, Adam reveals his plan: "She's gonna be gone for a little while, which is perfect, because it gives me just enough time to set up for her surprise," he says in a confessional segment.
"It's like there's no sense of joy in the house right now," Adam continues, and it looks like he's hoping to change that with the help of the quints. "So I just really hope that what I have planned is gonna cheer [Danielle] up." Back in the playroom, Adam tries to instruct the girls on how surprise parties work. He tells them that when Danielle reenters the house, they should jump up and shout, "Surprise!" They do not seem entirely on board with this, but they have things to do and toys to play with, so it's understandable.
Perhaps sensing the lack of enthusiasm in the room, Adam decides to do a dry run. He exits the room, telling them beforehand that they should jump as soon as he comes back and shout "surprise." However, when he returns, he's greeted with crickets: all of the girls are right where he left them, but there's just not taking part in surprise party practice.
That is until Riley belatedly announces, "That's surprise," and then reiterates, "It's a surprise." Adam tells her that she has the right idea, but that as a whole, the quints' reaction was not really what he was looking for. When he tells them they didn't do a very good job, he only gets a giggle in response. "This isn't gonna go very well," Adam sighs.
OutDaughtered airs Tuesdays on TLC, so that's when you can see if Adam pulls off the big surprise. It's not looking good at the moment, but after a few more rehearsals, it could work out after all.