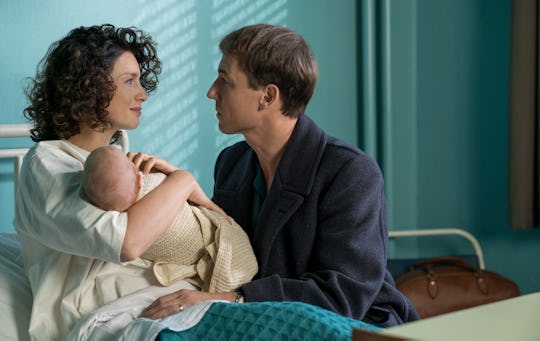 Starz
This Exclusive 'Outlander' Clip Teases An Intimate Moment Between Claire & Frank
Outlander has finally returned to Starz for its third season, which will focus (at least initially) on what Jamie and Claire's lives were like in the 20 years they spent apart from one another. While this might be heartbreaking to watch, it's important to see what they both went through before finally reuniting. This includes watching Claire and Frank figure out how to be first-time parents to baby Brianna. But you don't have to wait until next Sunday to get a taste of what that dynamic will be like. This exclusive Outlander clip shows Claire and Frank tackling the world of parenthood, and judging by the look of things, it seems to be slowly bringing them closer together, proving that there's definitely still some tenderness between them. However, Claire's heart may not be fully invested in it due to her ongoing love for a certain Scottish hunk.
As you recall, Claire left Jamie in the 18th century because he was planning on dying at the Battle of Culloden, and they were concerned for the safety of their unborn child. Putting her child's needs before her own desires, Claire agreed to head back through the stones to ensure her baby's protection. (A motherly sacrifice if there ever was one.)
Back in the '40s, Claire has now been reunited with her erstwhile husband Frank, who has agreed to raise Brianna as his own daughter with Claire. The only awkwardness is that Brianna is so clearly Jamie's child, as her distinct red hair more than illustrates. But if this clip is any indication, Frank isn't about to let that stop him from being a devoted father to Brianna, and you can clearly see throughout the clip:
His love for her is as undeniable as the fact that Tobias Menzies knows how to pull off a shirtless towel look better than anyone. (Eat your heart out, Sam Heughan!) And while there's definitely going to still be tension that exists between Claire and Frank, the clip demonstrates that their time together will have its share of happy memories as well. Like it or not, they are a family.
The clip shows Claire and Frank bonding when Brianna rolls over all by herself in her playpen, apparently a month before she was supposed to, according to the doctors. Claire places her hand tenderly on Frank's chest as he bounces the baby and it stays there for a moment before she quickly pulls away, as if almost pulling herself out of the moment — perhaps even out of guilt, feeling as though she's somehow cheating on Jamie? Could Claire and Frank be getting over the red-haired, Scottish blockade currently standing between them at last? Possibly, though that certainly doesn't negate how much she still misses (and deeply loves) Jamie.
As the Season 2 finale indicated, Claire and Frank's marriage never fully mended. Even their daughter, Brianna, could see it. When she discovered that Frank wasn't her biological father, she asked whether Claire ever loved him at all. Viewers know that she did love Frank very much — just not as much as she loved Jamie. So I would venture to guess that this moment of intimacy is meant to show that there are still feelings of love and tenderness between Claire and her first husband. But can it ever compare to what she had with Jamie? Unfortunately for Frank, I think we all know the answer to that question.