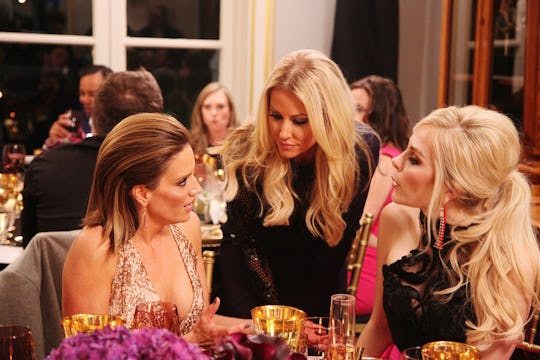 Peter Larsen/Bravo
Cary & LeeAnne Sit Down To Talk In This Exclusive 'RHOD' Clip
The third season of The Real Housewives of Dallas premieres on Bravo on August 15, and it looks like it's going to be returning with three times as much drama. Trailers for the new season show nearly all the women at each other's throats — when they're not throwing fabulous parties and going on vacation, that is. But in this exclusive clip from RHOD, two of the woman try to dial down the drama by leaving the past behind them. Whether or not they're successful is another story.
In the clip, LeeAnne Locken and Cary Deuber sit down to try and talk about the many issues they've had over the years. And they have definitely had problems with each other since the show began. When they weren't gossiping and sharing rumors about each other's relationships, they were exploding into arguments at various events. They've never been on the same page, which makes it hard to imagine that they can start fresh in Season 3.
This exclusive RHOD clip makes it clear that making up won't be as easy as saying they're sorry. The tension between Cary and LeeAnne is palpable, though it's more of a slow simmer than an outright boil.
To set the scene: LeeAnne and Cary spend the clip seated on opposite sides of the same table at what appears to be a casual dining establishment; perhaps even a diner. Cary must be fresh from her nursing job, because she's wearing scrubs. LeeAnne looks like how Cher would probably dress to go to a dinner: voluminous fur sleeves like two small bears curled up around her arms, a massive gold chain, and full glam in the makeup department. The contrast of LeeAnne's ensemble with this particular eatery is nothing short of art.
LeeAnne has called this meeting with Cary because D'Andra is throwing a party that they have both been invited to and LeeAnne wants to see where they are at the moment. Is another fight pending? Are they cool? What's going on here? "I'm not, like, at the point where I wanna be friends," Cary explains. "You know, I'm just still hurt."
LeeAnne absorbs this news as they receive their respective coffees, the arrival of the waiter an awkward punctuation in the conversation, like a comma placed in the wrong spot. LeeAnne says that she wants to be happy, and she wants the same for Cary too. Cary agrees and says she doesn't want to be nervous around LeeAnne anymore, but isn't sure that she can count on LeeAnne to respect her.
LeeAnne, on the other hand, fears that her words will be twisted and used against her later. She wants to change the pattern they've found themselves trapped in. "We've done this round and round for three years," LeeAnne says. "And it's not who I wanna be." Cary, however, can't take LeeAnne at her word. She believes actions speak louder, and LeeAnne's actions have spoken.
LeeAnne promises to keep owning her actions, but Cary cuts her off because she doesn't want to rehash anything; the mere thought makes her sick. At a draw, both women stare at each other while silence reigns. It looks like this situation is far from resolved, especially since they can't come to some kind of mutual understanding. It looks like Cary still needs time to get past what happened before she's ready to try and be friendlier with LeeAnne.
However, from the looks of the trailer, they might not be able to work things out. Scenes show LeeAnne butting heads with a few of the women, Cary included. It seems like Season 3 of RHOD might be a bumpy ride, and fans would expect nothing less.