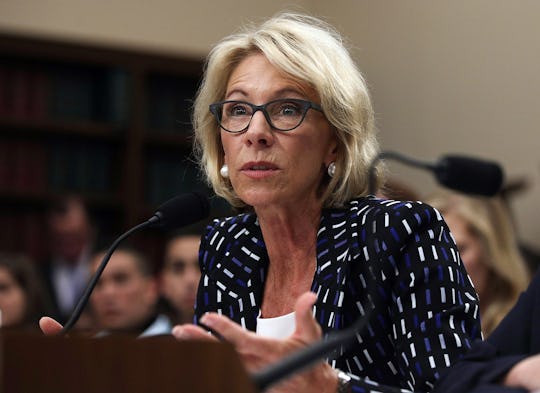 Alex Wong/Getty Images News/Getty Images
This Report About Betsy DeVos' Campus Rape Meeting Is Infuriating
Soon, Secretary of Education Betsy DeVos could be making a big decision on campus sexual assault guidelines, and many people are worried. Most troublingly, while she is meeting with advocates for sexual assault survivors, DeVos will reportedly be meeting with Men's Rights groups too. Members of these groups, who have previously blamed and intimidated rape survivors, could play a role in shaping the Department of Education's guidelines on campus rape, and that's infuriating.
In the face of widespread campus sexual assault, and the frequent mishandling of rape accusations in college settings, the Obama administration put in place stricter sexual assault guidelines for schools in 2011. During her confirmation hearing, DeVos declined to publicly state her views on the guidelines, although the Department of Education has already begun to roll back some of the Obama administration's policies in the months since she took over. Now, many believe that DeVos' alleged slate of meetings could signify that she will soon take a public position on campus sexual assault, as well as make some big changes to the Department of Education's sexual violence policy. And, to freak you out, here are a few of the groups she'll reportedly be meeting with.
The three most troubling ones are called the National Coalition for Men, SAVE: Stop Abusive and Violent Environments, and Families Advocating for Campus Equality. (Romper has reached out to the DOE for comment on the reported meeting and is awaiting a response.)
Let's go over just a few of the reasons why each organization should probably not be helping to shape the new administration's campus sexual assault policy, shall we?
First, there's the National Coalition for Men, which believes that, when it comes to sexual assault, men are the real victims, with women falsely accusing men of rape all over the place. (According to a recent analysis of 10 years-worth of reported rape cases, between 2 and 10 percent of rape accusations at most are false.) Previously, NCM published a list of names and photos of women that they deemed "false accusers," a tactic some believed was meant to silence and intimidate women who were considering coming forward about their own experiences.
Meanwhile, SAVE has been classified as a misogynist website by the Southern Poverty Law Center, and advocates the belief that the "true victims" of abuse are the falsely accused. FACE, which was founded by women whose sons were accused of campus sexual assault, is focused on the "ruined futures" of the accused, according to ThinkProgress.
Reportedly, DeVos will reportedly also meet with organizations like the National Women's Law Center and End Rape on Campus. Hopefully, she will be more moved by their arguments than by the arguments of those who believe that victims of the campus sexual assault epidemic are the root of the problem. If not, it seems likely that many more women will suffer.