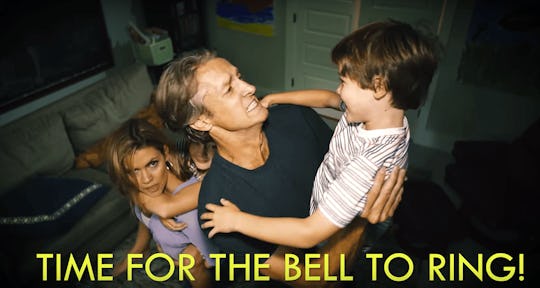 This Family's Parody Of A DMX Song For Back To School Is The Realest Song Of The Summer
Can you hear it? If you listen closely — I mean really listen — you can hear a faint whispering on the wind: "Is it back to school yet?" This collective thought is so common during the month of August that the sheer number of parents thinking this very same thing at once have actually given it voice. But for the Holderness family, they've taken it one step further: This family's parody of a DMX song for back to school season says all of the things parents internally scream to themselves as the summer clock winds down as slowly as the minute hand during the last period of the day.
Penn and Kim Holderness, along with their two kids Lola and Penn Charles, star in a just under three-minute long parent parody of the DMX hit song, "Party Up (Up in Here)." It's seriously worth the watch as the Holdernesses lament about their kids sleeping until noon and endless schlepps to the beach — and the welcome parenting respite of the first day of school. Like many of their parody videos, the lyrical word smithing is clever, the visuals are clean, and they totally put into music and film the one thing on just about every parent's mind this time of year: "Are the kids back in school yet?"
"We, and many parents, are at that point in the summer when we ALL need to see other people," says Kim, speaking to Romper. "The kids are constantly bickering and I feel like we spend our days sending one or the other into time-out. School can't here fast enough!" According to Kim, her husband Penn wrote the parody lyrics to the DMX classic in just a few hours:
Y'all gonna make me lose my mind / Up in here, up in here
Y'all gonna end up in time out / Up in here, up in here
Y'all need to not lose your cool / Up in here, up in here
Y'all need to go back to school / Up in here, up in here
Amazingly, the Holderness family shot the entire video Tuesday afternoon and edited it "while watching the Olympics" Tuesday night.
Of the entire video, this clip is probably my favorite: Parents carrying just about "everything we own" as they head out to the *insert family outing of your choice here* — seriously, the amount of stuff needed to get my own family out the door in the summer seems to increase exponentially each year.
But don't let their urgency to get the kids out the door and back to school fool you: It's been a special summer for their family, too: "We took our first real family vacation, just the four of us," Kim says. "The time together will be something I'll cherish for the rest of my days. But now it's time for a schedule, a routine, and for the kids to get out of my hair." She continues:
Penn and I have a calendar we are literally counting down the days like Christmas. Don't get me wrong, the kids are excited to see their friends and teachers – but they've enjoyed the laziness of summer.
The Holderness family is no stranger to funny parenting videos. They post weekly to YouTube, maintain an active blog, and post regularly to the Holderness family Facebook page, chronicling their many adventures. Penn's background in television certainly helps, too — giving their family and parody videos a sharper edge than most home movies. Check out their "Back to School" DMX parody video below:
Only 27 more days until the first Tuesday after Labor Day, folks. Hang in there, parents!