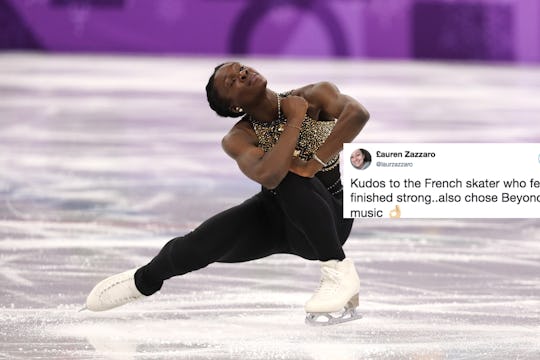 Maddie Meyer/Getty Images Sport/Getty Images
A Figure Skater Performed To Beyonce At The Olympics & People Are *Losing* It
There are 15 sports that over 2,000 athletes are competing in during this year's 2018 Winter Olympics in PyeongChang, South Korea, but not every one of those sports holds people's attention like figure skating. There is something so hypnotizing about watching the figure skaters glide along the ice — and at this year's Olympics, that is already proving that to be true. People can not stop freaking out about this figure skater who performed to Beyonce at the Olympics, combining everyone's favorite musician with everyone's favorite winter sport.
Everyone is quite aware that girls run the world but when Beyoncé said it in a song, it pretty much solidified the idea. "Who Run The World? (Girls)" is already a jam to listen to when you're working out or needing a little bit of a pick-me-up. But when paired with the beauty of figure skating, "Who Run The World? (Girls)" turns into an anthem for girls everywhere, especially those who wish to skate themselves but never thought it was possible.
On Saturday, during the Olympics, French figure skater, Maé-Bérénice Méité performed to a medley of classic Beyoncé songs — "Who Run The World (Girls)" and "Halo." During the performance, Méité glided along the ice, pulling off some pretty impressive moves in front of the judges. Her full routine, performed at the 2018 European Championships just weeks before the Winter Olympics, can be seen on YouTube and you should watch the whole performance. It really takes figure skating to another level.
During Méité's performance, people took to Twitter to share their excitement about the routine and the fact that Méité was performing to the "Queen Bey" (which, in turn, should make Méité "Queen B," too). Seriously, people could not stop staring and rooting for Méité — and after watching her performance, you can see why.
Saying that people were excited is a huge understatement.
Although Méité only received a 46.62 from judges, ranking her 9th out of 10 figure skaters according to Olympic.org, people couldn't help but to root for her.
If the idea of skating to Beyoncé seems a little new, that is because it is. The 2018 Winter Olympics are the first Olympic Games where skaters can use "vocal music" in their routines for the first time ever, according to NPR. Before this year, skaters were only allowed to perform to instrumental music during the Winter Olympics. With recognizable music (especially music from Beyoncé) viewers at home are able to connect with the sport a little bit more, according to USA Today. While this gets points with viewers, it doesn't change the judge's opinions or thoughts on the routines (which can clearly be seen with Méité's performance on Saturday).
Not only was Méité's music choice a little unconventional, according to Yahoo! News, her outfit was, too. Typically women in figure skating skate in dresses fitted with a full skirt, but Méité skated in a full bodysuit with pants. From 1988 until the early 2000s, it was a rule that women had to wear skirts, according to Yahoo! News, until that was recently overturned. And Méité looked gorgeous in skating costume.
Méité's choice to perform to Beyoncé wasn't at the expense of viewers at home but for the fact that she just really, really likes Beyoncé's music (like everyone else in this world). Méité told Cosmopolitan after performing on Saturday:
[Her music] is crazy, wild, and fun. You can just dance to it and that's how I am... I wanted to do something that was very me, something fun, something I would enjoy!
You can tell by watching Méité's performance that she was having fun, even if she did have a few minor hiccups during it. Although the pressure to win during the Olympics must be immense, if athletes are not having fun at some point in the competition, then there really is no point to it. Méité's selection shows that you can have fun and please the audience at home as well. And she absolutely killed it.