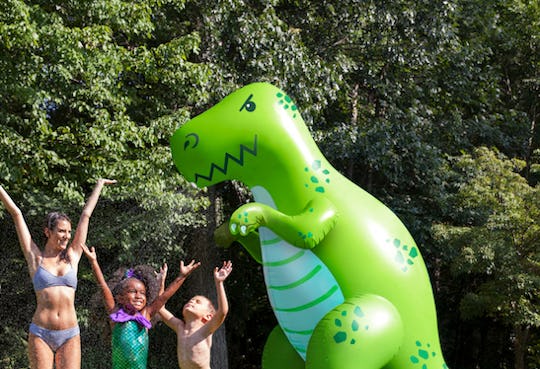 This Giant Dinosaur Sprinkler Will Make Your Backyard 1,000 Times More Fun This Summer
The weather's warming up, and that means it's the best time of year to spend more time outside with your family. If you want to give your kids a super unique and fun outdoor activity this year, then this giant inflatable dinosaur sprinkler is pretty much all you need. Seriously, your kids will have the most amazing summer toy in the neighborhood.
For starters, this thing is huge. In fact, the inflatable dinosaur summer sprinkler is over 6 feet tall, according to the Big Mouth Inc. toy company's website. That is ridiculously big for any toy, so it will basically become an attention-grabbing part of your lawn decor for the entirety of the spring and summer. Can you imagine that thing towering over your backyard garden? Seriously, as a kid I would have lost my entire mind over such a gigantic inflatable T-Rex.
But its size is not even the coolest part — this toy is also a fun lawn sprinkler. By connecting it to any standard garden hose, the inflatable T-Rex will spray water from its nose. Basically, arguably the best yard toy — the humble sprinkler — just got a thousand times better. Birthday parties, play dates, and pretty much every other aspect of the warmer months will be instantly and exponentially improved with this super-tall, silly, "prehistoric" sprinkler. (The only real downside might be your water bill for the month.)
Here are 3 very convincing reasons why you should order one stat.