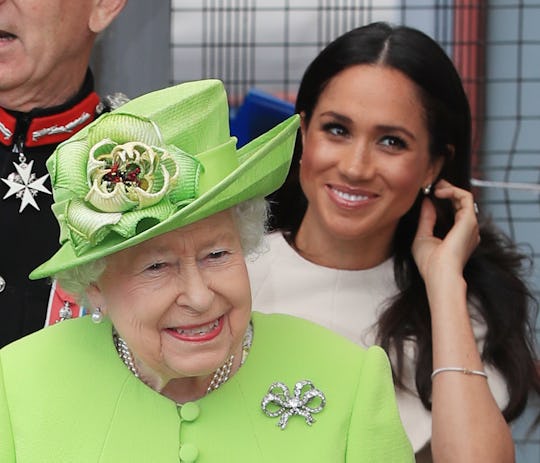 WPA Pool/Getty Images Entertainment/Getty Images
The Queen Gave Meghan Markle A Very Thoughtful (& Super Snazzy) Gift Ahead Of Their Royal Trip
It's nerve-wracking for anyone to spend a whole day with their new in-laws, but can you imagine how much more so when one of them is the leader of a nation? Even though all eyes have been on Meghan Markle as she adjusts to life in the royal family, it definitely looks like she's fitting in with her new relatives just fine — but especially with the queen. That's because, according to E! News, Queen Elizabeth II gave Markle a touching gift before their slate of royal engagements on Thursday and it had to set the new Duchess of Sussex's mind at ease, considering how personal and thoughtful it was.
Queen Elizabeth gifted Markle a pair of elegant diamond and pearl earrings that came from the her own collection, as reported by Town & Country. The news was confirmed with Buckingham Palace by reporters, as the publication noted, who then shared sweet tidbit on Twitter. And this isn't the first time Markle has worn something from the queen's jewelry box; according to E! News, the queen also loaned Markle Queen Mary's diamond bandeau tiara from her personal collection to wear for her wedding to Prince Harry on May 19.
The schedule for Thursday's activities actually started on Wednesday night, when Markle and the queen took the royal train north to the town of Cheshire, according to Harper's Bazaar. The royal train is an impressive nine-car affair that includes multiple bedrooms and bathrooms, and a dining room that seats 12, according to The Daily Express. What makes their trip even more significant, as The Daily Express also reported, is that Prince William, Prince Harry, and the Duchess of Cambridge, Kate Middleton, have all yet to receive invitations to ride the train.
Markle and the queen seem to have developed quite a rapport already, which has been evidenced as their schedule for the day wore on, according to Harper's Bazaar. For starters, they were caught sharing a laugh together as Markle whispered something to her grandmother-in-law during a ceremony to open the Mersey Gateway Bridge. As seen in photographs from throughout the event, Markle leaned in toward the queen, perhaps a sign of comfort and familiarity.
The rest of the day called for the duo to visit the Storyhouse theater in the town of Chester and attend lunch at the local town hall, according to Harper's Bazaar. When they were there, it sounds like Markle shared an adorably candid comment while she was greeting the public in Chester. According to E! News, she called Prince Harry the "best husband ever" and said marriage was wonderful. She certainly does seem to be glowing since her wedding day, especially since it's believed that the newlyweds just returned from their honeymoon, surmised to have been in Africa, according to E! News.
After being out of the spotlight for a few weeks, they were finally seen this past weekend at the Trooping the Colour ceremony and Markle made her first solo appearance as a member of the royal family without Prince Harry today, according to CNN.
The gift of earrings from the queen does make me wonder whether the queen has ever gifted Middleton with something so personal. While no official reports that queen has, Middleton does often borrow jewels from the royal collection for her events, according to PopSugar.
It's easy to understand why the queen would be falling for Markle. For the same reasons Prince Harry and the world have: her grace, courtesy, and perhaps most importantly, what seems like a fun sense of humor and light-hearted spirit. She just seems like she would be a fun person to spend time with. Here's hoping this royal duo shares more moments like this together, both privately and for the world to see.