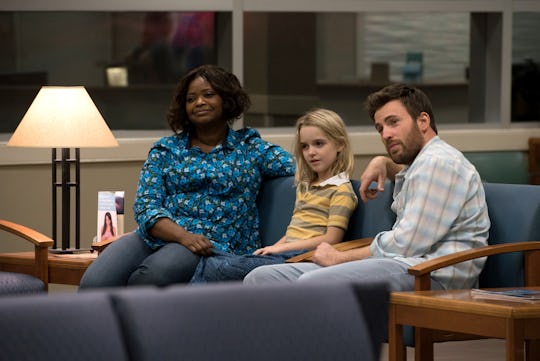 Fox Searchlight Pictures
Chris Evans Struggles With Raising A 'Gifted' Child
March 21 marks National Single Parent Day, a day where guardians raising children alone are honored and appreciated. (Although, let's agree to appreciate them every day, OK?) That relationship between a single parent or guardian and a child is explored in the new Fox Searchlight film, Gifted, starring Chris Evans and McKenna Grace. In the new exclusive clip, Evans' character, Frank, banters with his niece, Mary, trying to convince her to enjoy the nice weather outside, despite her interest in her math books in front of her.
The film revolves around the relationship between Mary and her de facto guardian, Frank, and how the two navigate their lives together and how things change when Frank's mother fights for custody of her granddaughter. Mary is gifted — a math genius who can solve some of the most difficult calculus problems by the time she is in first grade. She fell into her Uncle Frank's hands when her mother, a mathematician, too, killed herself when Mary was only six months old. Frank vowed, as Mary's guardian, to give Mary as much of a "normal" childhood as possible, which is challenged when Mary's grandmother, played by Lindsay Duncan, believes Mary should lean into her math prodigy brain and leave public school. Frank fights to remain Mary's guardian while giving her a childhood he believes his late sister would have wanted.
In the exclusive clip below, Frank finds himself playfully battling a determined Mary to go outside and enjoy the nice weather. By the end of the clip, Frank has to go to rather significant measures to get Mary to put the books down and enjoy her childhood.
The clip also includes a specialized introduction by the two stars, where McKenna Grace steals the show as a single parent to Fred the cat in the film. The film is set to premiere on April 7 in select theaters and also stars Jenny Slate and Octavia Spencer.