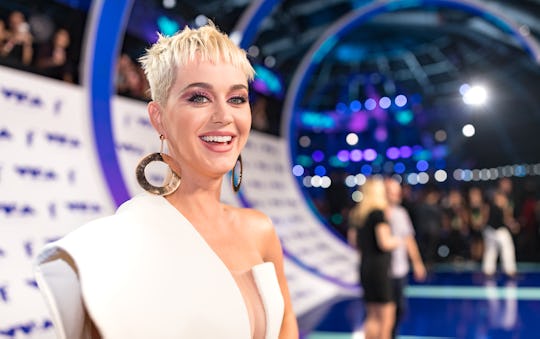 Christopher Polk/Getty Images Entertainment/Getty Images
This Girl Went On Stage With Katy Perry & Made A Wish All Parents Should Hear
A celebrity's voice is a powerful way to bring attention to an issue, particularly when a large audience is listening. On Friday, 12-year-old Zoe went on stage with Katy Perry and wished that her older sister with autism would no longer be bullied in school. Her comments reminded Perry, the audience, and parents everywhere, that bullying hurts its victims and can particularly impact the most vulnerable members of a community.
When Katy Perry fan Zoe (who was only identified by last name) found out that she was headed to see her favorite singer on Friday, she had no idea what she was in for. When her stepmother surprised her with tickets, she said just attending made her happy. She told KCTV:
I was crying because I was so excited. I've never been to a concert before and Katy Perry is my idol.
Her first concert was far from the typical experience for a pre-teen, though. Perry's Kansas City concert at the Sprint Center took an endearing turn when Perry asked for an audience member to come on stage with her, according to People. Zoe told KCTV thats she jumped up and down until Perry noticed her:
She said 'You, in the orange hoodie. Get up here on stage,' and doofus that I am, I ran the wrong way.
Once she arrived on stage, Perry asked little Zoe to make a wish. Zoe's answer was one that all parents should hear:
I wish for my 17-year-old sister with autism to stop getting bullied by the kids at her school.
In her interview with KCTV, Zoe explained how important her sister is to her and the impact that bullying has on its victims, saying:
I care about my sister a huge deal. I would die for her. Words hurt more than physical fighting. Words can sink into someone's heart.
Her wish was powerful enough to create a crowd reaction. Perry and Zoe shared a sweet hug on stage and Perry promised to visit Zoe's sister's school in nearby Wichita, Kansas. Then, the entire crowd joined in on a chant of "no more bullying," led by Zoe and Perry, according to KWCH.
Zoe told KWCH that she hopes Perry's powerful voice as a celebrity will help kids on the autism spectrum who are being bullied. A recent study out of Washington University in St. Louis found that children with autism are bullied substantially more often than their neurologically typical peers — nearly five times as often, according to TIME.
Of those who participated in the study, roughly 46 percent of children with autism who were in middle and high school at the time confessed to their parents that they were bullied in the preceding year, compared to an average of 10 percent of children in the neuro-typical population, TIME reported. Lead author of the study Paul Sterzing told The New York Times the bullying rate for kids with autism is a "profound public health problem" because it's so alarmingly high.
The National Autistic Society (NAS) explained on its website why bullying rates are so high among children and young people with autism:
Autistic children and young people can be more at risk of being bullied than their peers because of the different ways they communicate and interact with others ... Because autistic children and young people find it hard to read facial expressions and body language, they can't tell when someone is being friendly or if they are trying to hurt them. This means they may misunderstand the intentions of their peers.
Bullying may worsen as the child gets older, too, as peers will often pick up on communication and behavioral differences as the child with autism ages, NAS wrote.
Educating students and parents about the contributing factors to and damage done by bullying is the first step in helping change these alarming stats. Zoe and Perry did their part to raise awareness to the issue. Here's hoping the momentum to fight bullying continues.
Watch Romper's new video series, Romper's Doula Diaries:
Check out the entire Romper's Doula Diaries series and other videos on Facebook and the Bustle app across Apple TV, Roku, and Amazon Fire TV.