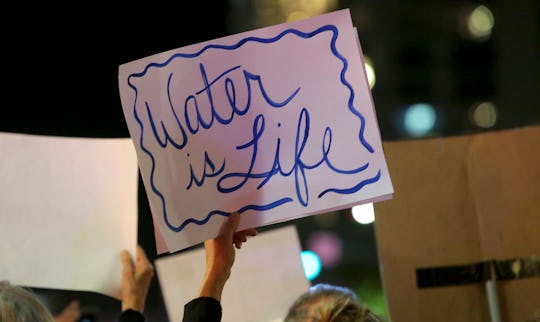 BILL WECHTER/AFP/Getty Images
This Girl's Response To Being Told To "Dress Like An Indian" Is Inspiring
Every year when Halloween or Thanksgiving rolls around, there seems to be a rise in cases of cultural appropriation or other culturally and racially offensive behaviors. Between Halloween costumes that involve someone wearing blackface, or Thanksgiving-related activities that entails people wearing what they perceive to be traditional clothing worn by Native Americans, it's the time of year where conversations on cultural awareness seems most needed. That's why this girl's response to being told to "dress like an Indian" for a kindergarten assignment is so inspiring.
According to the Huffington Post, mom Tremeka Greenhouse said her 5-year-old daughter, Nyemah, was assigned to "dress like an Indian" for a class assignment. Greenhouse, put off by the cultural appropriative assignment — especially at a time when natives of the United States are currently protesting the construction of the Dakota Access Pipeline in North Dakota — had a different idea instead.
Greenhouse took the opportunity to educate her daughter about the protests and the Native's efforts to protect their water, which could be contaminated from the DAPL, along with causing damage to sacred sites.
"I've been following the story of the DAPL protestors and thought it would be good for Nyemah to go dressed as a water protestor instead of an actual Indian 'costume,'" Greenhouse said in the interview with HuffPost."I discussed with Nyemah and she loved the idea. Especially after I explained to her the purpose of the protest and we went over the pictures."
With the help of her older sister, Taniyah, 5-year-old Nyemah created an outfit that represented her solidarity for the water protectors of the Standing Rock Sioux reservation. Taniyah tweeted a picture of her sister with a caption reading, "My sister was supposed to dress like """an Indian"""" today for kindergarten. This happened instead."
The tweet garnered nearly 2,000 likes and nearly 1,000 retweets. Greenhouse told HuffPost that she's been talking to Nyemah about the Standing Rock protests by reading and looking at pictures together.
And with ongoing reports of DAPL protesters facing tear gas, water cannons, pepper spray, and rubber bullets — the Morton County Sheriff's Department has defended the authorities' use of said tactics in sub-freezing temperatures — it's important to be informed on the current situation when discussing Native Americans (in addition to their history of genocide and continued marginalization in other ways). The Morton County Sheriff's Department has not responded to Romper's request for comment.
It seems Nyemah already has a good start to such awareness — the world will just have to wait to see what she'll do next.