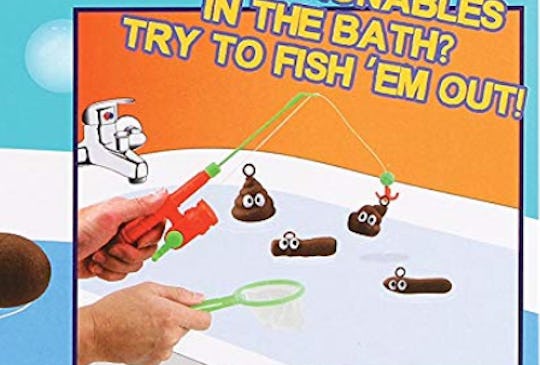 Amazon
This Poo-Fishing Game Is Legit The Grossest Thing Ever, But Also Maybe The Best
Earlier this week I was prowling around online, looking for a tongue-in-cheek gift for my Secret Santa, when I stumbled upon a poo fishing game called 'Fishing For Floaters.' Needless to say, I had to question if this was actually a legit toy or if I was being punked. But it turns out, it's 100 percent real and weirdly enough, might actually be a huge hit with your kiddos.
Created by the toymaker Daren Worldwide Traders, the premise of Fishing For Floaters, is to catch the six poop floaters (that closely resemble the poo emoji) in the bath using the fishing rod and the plastic net included in the game. The bath time game is available at various retailers, including Amazon ($5) and Walmart ($13), but you better act fast because at the time of writing, Walmart.com listed the toy as having only 7 left in stock. I guess poo is really flying off the shelf this holiday season!
Now, I can see why this would make an ideal gag gift or office Secret Santa present, because let's be honest, bathroom humor never really gets old. But I was a bit more skeptical about how a poo fishing game would play on Christmas morning at home, or really any night of the week. Maybe @MummyTwig on Twitter can answer that inquiry.
I'm the first person to admit that sometimes you need a little incentive to make bath time more tolerable, but I wasn't sure if fishing for "unmentionables," as the game's box advertises, was going to transform our family bath time into a poo-tastic good time.
However, after reading some of the reviews on Amazon and Twitter, it sounds like this game is actually kind of a big stinkin' hit with kids of all ages. "I actually bought this as a joke to piss off my daughter, but she said my grandson loves it, and won't take a bath or go to bed until he has his floaters!" wrote Cari Stewart, in one entertaining Amazon review.
Another anonymous Amazon reviewer had this to say: "I bought this for my 8 year old son and he loves it. He always jokes about poop and all the nonsense that boys talk about, so now he can actually play with it in the bath tub. It gives him something to do, too, and makes bath time more fun."
I mean, if all it takes is some floating poo to make bath time something my kids look forward to instead of dread, I might just be able to get on board with this game, and Twitter user @daisychaindream thinks so, too.
Of course, I'd be remiss if I didn't talk about the potential for turning this "toddler game" into an adult drinking game too. I can see this being a huge hit at a summer BBQ, with the poo floaters thrown into a kiddie pool.
You could also use the game's googly-eyed poo pieces for office pranks or water-cooler fodder. "I ended up using the pieces to give out to co-workers to show them that i [sic] actually do give a crap :D," wrote John Anderson in an Amazon review.
I guess the real takeaway here is that the 'Fishing for Floaters' game is a game that promises lots of you-know-whats and giggles.
This first-time mom wants to have a home birth, but is she ready? Watch how a doula supports a military mom who's determined to have a home birth in Episode One of Romper's Doula Diaries, Season Two, below. Visit Bustle Digital Group's YouTube page for the next three episodes, launching Mondays in December.