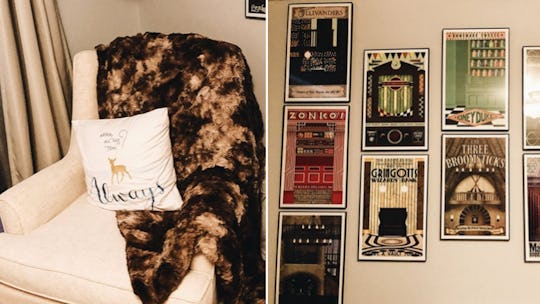 Courtesy of Bria Celest
This 'Harry Potter' Nursery Is So Magical, It's Perfect For A Tiny Wizard
Welcoming a new baby is often a magical time. So if you're a Harry Potter super fan, why not make it even more magical? Fellow witches and wizards, if you've been searching for some nursery inspiration, look no further than this Harry Potter nursery that is currently enchanting Twitter.
Bria Celest, a photographer, recently tweeted photos of the Harry Potter nursery her coworkers, Jonathan and Sarah White, created for their baby. "My coworkers nursery for their little girl is Harry Potter themed and I'm so 😍😍😍," Celest wrote on Twitter alongside the photos. Honestly, the heart eye emoji totally describes just how adorable the nursery is. The whole room is filled with magical touches — which isn't a surprise, considering the Whites, who welcomed a baby girl in December, are both huge Potter heads. "They love Harry Potter!" Celest tells Romper via email. "They're huge fans and both Gryffindors."
On a rocking chair, there is a furry throw blanket that looks like it could have been made from Fluffy (though more likely/hopefully it's synthetic), and a throw pillow that says "After all this time? Always."
Hanging on the wall, there's a poster called the "Beginner's Guide To Wand Motions," with diagrams showing wand motions including nox, lumos, stupify, and, of course, wingardium leviosa. Next to the poster is a fancy clock that says "Grand Central Terminal, New York" on it. And while it's still totally cute, a "King's Cross, London" clock would have been much more fitting, right? At least there's a time turner hanging from the clock and a Deathly Hallows light switch cover beneath it.
"My personal favorite touch is the time turner," Celest tells Romper. "I also love the wand gesture poster."
Hanging above the cribs are homages to all four Hogwarts houses: Gryffindor, Hufflepuff, Ravenclaw, and even Slytherin. There's a separate framed poster for each house, each of which playfully lists qualities of members of that house. I assume that when the child turns 11, they will choose what house they are in, and take down the other three posters.
And printed on the wall beneath the house posters is the Albus Dumbledore quote: "Happiness can be found even in the darkest times if one only remembers to turn on the light."
Another section of the wall features a slew of posters for businesses in the Harry Potter universe: Ollivanders, Zonko's Joke Shop, the Leaky Cauldron, Quality Quidditch Supplies, Gringotts Wizards' Bank, Honeydukes, The Three Broomsticks, Borgin and Burkes, and Madam Malkin's.
There is also a framed poster that reads:
In This House / We solemnly swear we are up to no good / Because we are members of Dumbledore's Army / As brave as Gryffindor / As intelligent as Ravenclaw / As loyal as Hufflepuff / As cunning as Slytherin / Together we have something worth fighting for / We have become the master of all the Deathly Hallows / We know the answers can be found on page 394 / We remember that happiness can be found even in the darkest of times / Because in this house / We always do Harry Potter.
Beneath the poster, a towel covered in a Harry Potter print hangs from an owl-shaped hook on the wall.
The whole nursery is super magical, and each and every little touch is so thoughtful. If that baby grows up to be a misbehaver and gets sent to their room a lot, they will have plenty in there to keep entertained...
Celest's coworkers are not the first to decorate their baby's nursery with a Harry Potter theme. In 2016, an Illinois-based couple commissioned an artist to transform their nursery into a mini Hogwarts, HuffPost reported. The artist, Nate Baranowski, painted the room to look like it was taken straight out of the Hogwarts castle, and then the family filled the room with small touches like a Gryffindor tie, framed paintings of Dumbledore and Dobby, and a caged stuffed-animal owl hanging in the corner.
If these babies don't grow up to be Harry Potter super fans, I'll totally swap bedrooms with them.