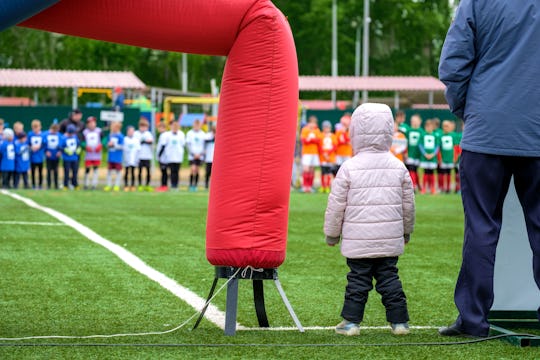 Shutterstock
Keep Your Tush Warm During Game Season With These Genius Heated Seats
If you love the outdoors, but hate freezing your tail off, then this nifty chair just might change your life for the better. The heated, foldable camping chair is perfect for staying warm at soccer practices, festivals, outdoor concerts, and (yes) even camping trips. This simple upgrade to a typical fold-up chair could make your outdoor events so much more comfortable and cozy.
The Chaheati All-Season Heated Chair has four different temperature settings, so you can dial up the heat to your own personal comfort level. Instead of coils, this chair uses a woven heating technology that's powered by a lithium-ion rechargeable battery. As a sweet bonus, the 11.1v MAXX battery also includes a USB port, which means you can charge up your phone, tablet, or other tech while the chair heats up, according to Chaheati. This is a nice deal you're going to be outside away from wall outlets for a long stretch of time. The chair weighs 12 pounds, and it comes with a genuine Mossy Oak camo pattern. If you're serious about staying warm while braving the great outdoors (or the local park's football field), this heated folding chair could be a game-changer. Add in a chunky blanket and some thick socks and you're ready for whatever chilly weather is headed your way.
Although it's a neat luxury, the heated seat does retail for $119. If that doesn't jibe with your budget, or you already have a favorite fold-up chair, then the Chaheati company also makes a heated seat add-on for existing chairs. Retailing for $77, the add-on heated seat attaches with hook-and-loop fasteners, and its rechargeable battery can support four different temperature settings.
What if you spend a lot of time in chilly stadiums, where the seats seem to retain cold temperatures like it's their job? You can also keep your seat warm. The Chaheati MAXX Stadium Seat provides up to 6 hours of heat with its single temperature setting. If you're going to bring a stadium seat anyway, why not make it one that warms up?
If you need even more ways to keep your body warm when braving the elements, then there's no shortage of products designed to help you stay hot and toasty. The best items for people who are always cold includes heated insoles, insulated slippers, and even a hand-warmer that doubles as a smartphone recharger. Basically, it's easier than ever to keep yourself warm (and apparently charge your phone as well) in even the chilliest of conditions.
So whether you're attending your kid's soccer practices, catching an outdoor concert, or doing a bit of tailgating before the game, these many heated seats can keep the chills at bay, at least for a few hours (or however long the charge lasts). It's a bit extra, sure, but under the right conditions you'll be happy for any extra warmth. Whatever draws you to the outdoors during the colder months of the year, you can treat yourself to a little warm oasis in your heated seat. Now, the only downside is the fact that you'll eventually have to get up and face the cold anyway.