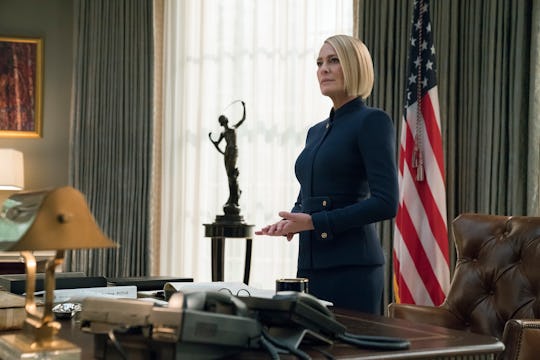 David Giesbrecht/Netflix
This Is Where Season 5 Of 'House Of Cards' Left Off
Netflix's political drama, House of Cards, is coming to an end with its upcoming sixth and final season. The series took a long hiatus due to the sexual assault allegations and subsequent firing of lead actor Kevin Spacey, so fans may have forgotten what went down last season. So, if you need a House of Cards Season 5 recap before you start on Season 6, I have a few key points to help refresh your memory.
The Underwoods have been orchestrating political schemes and murders since Season 1, but their relationship dynamic changed drastically in Season 5. Throughout the series' run, Claire (Robin Wright) and Frank (Kevin Spacey) faced plenty of difficult situations, and they always did it as a team. But during Season 5 — whether it was from her brief taste of power, her mother's death, or just sheer exhaustion from Frank's ploys — Claire's loyalty to her husband faded. "My turn," she said as she closed out Season 5, breaking the fourth wall, and giving fans the badass female POTUS they've been waiting for.
In one teaser for the new season, fans can see Claire standing over Frank's grave, repeating a monologue he gave in Season 3. When Frank spoke the words, they were meant to belittle his father (as he urinated on his grave), mocking the fact that he was buried in his own backyard. But the teaser pans out to show that Frank is buried right next to his father. "I'll tell you this, though, Francis: When I die, they won't bury me in my backyard," she says ironically. "And when they come to pay their respects, they'll have to wait in line."
Going into Season 6, Claire seems to be doing just fine without Frank in the picture. How he died is yet to be seen, but here are a few things to remember before you dive into the final season.