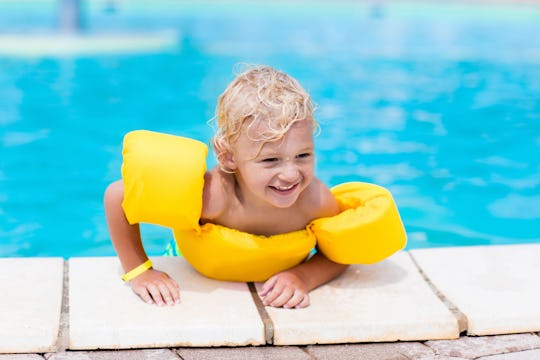 famveldman/Fotolia
This Is How To Keep Your Backyard Pool Safe For Your Toddler, Because Summer Should Be Fun
I grew up in a home with a large, in-ground pool and a steady stream of kids using it. I was so young when I learned to swim, I don't remember my first lesson, but I knew that it was important. I can't imagine how my parents felt with a pool, especially with so many kids around, but knowing how to keep your backyard pool safe for your toddler is as important as your kid learning to swim. And honestly, it seems a really harrowing task.
As a teenager, I swam year round at my local pool. I eventually became a lifeguard and swim instructor, and taught many toddlers to swim. Now, as a mom, I find myself more anxious than ever before regarding pool safety and supervision. While toddlers can and frequently do learn to swim, it's on a case-by-case basis. The American Academy of Pediatrics (AAP) recommends that every child aged 4 and up learn to swim, but that children ages 1 to 4 need to be assessed for readiness first. Children are so unique, it's impossible to know where they'll fall in readiness until you evaluate them, but once you know they're ready, it's important to learn.
According to the Centers for Disease Control and Prevention (CDC), one in five drowning victims are children. It's a scary statistic if you're lucky enough to have a backyard pool, that's for sure, but thankfully, there are precautionary measures you can take to help keep your toddler safe.
First, it's important to remember that even inflatable or plastic kiddie pools can pose a danger to children. Babies can drown in as little as 2 inches of water, according to Neumors Health System. If the kiddie pool is not in use, empty and deflate the pool until it's used again.
The Mayo Clinic noted that when looking at how to keep your toddler safe, the number one factor is supervision. You should keep your child at arm's reach any time you're around a backyard pool, and the article urged parents to learn CPR in the event that your baby falls in the pool. Also? Don't drink and supervise. The Mayo Clinic warned parents that just a little bit of alcohol impairs your response time, and precious seconds matter.
Also, if you don't know how to swim, Neumors Health Systems suggested that you should learn if you have a pool. I get it, it can be terrifying to consider learning to swim as an adult, but it's incredibly important. I know that YMCAs have a great program that teaches adults how to swim in a non-threatening, semi-private environment.
The next steps are more physical in nature, and deal with the area itself. Keep the area around the pool free of toys and distractions that would lure your child to the pool and its surroundings, Neumors Health Systems noted. Kids go to toys like moths to flame. That giant clamshell floatie in the center of the pool will call out to any toddler like a siren's song. It would be like someone inviting me to a party at Target, setting up a free wine booth in the center, and telling me to avoid it. Yeah, right.
You should also keep water rescue equipment handy, and make sure it's operational and up to code. This includes hook, rope, and preserver. While it's unlikely you'd use these rescuing a toddler, having them is not only law in most states, it sets a good example that your child will notice.
Looking for some products to help? You need to get a pool-surround fence and a pool alarm. The fences are erected within one foot of the edge of the pool and stretch 4 to 6 feet in height, clicking in and out of place easily. The pool alarm will sound if something or someone falls into your pool and disrupts the water. Honestly, the alarm is extremely loud and your whole neighborhood will hear it.
Finally, you should pay attention to the actual pool. Check out your pool drains to make sure they're properly covered and functional. They can be dangerous if not attended to regularly, so keep up the maintenance. And don't forget to check your pool's temperature. According to Neumors Health System, babies should swim in water that's ideally between 84 degrees Fahrenheit and 86 degrees Fahrenheit, but no lower than 70 degrees Fahrenheit because body heat drops more quickly in water than on land.
In the end, pools are a great time, and a really fun way to spend your summer. If the proper care is taken, there's no reason not to enjoy a safe, happy backyard pool with everyone in mind. If you're still concerned, don't worry, there are tons of great pool safety courses out there, and I'm sure there's one in your local area. Forewarned is forearmed and all of that, right? Don't forget the sunscreen.