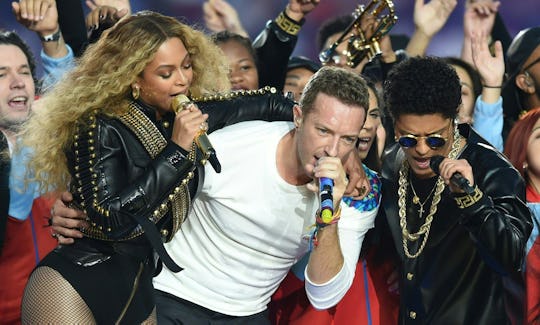 TIMOTHY A. CLARY/Getty
This Is The Best Meme Of The Super Bowl Halftime Show
As with any live event, the memes were running rampant during Super Bowl Sunday. Between bitter rivalries, out of the ordinary commercials, and a halftime show that brought the world to its knees, creative minds were given plenty of material to work with. But the best meme of the Super Bowl came out of the halftime show.
The meme in question has been popping up in Twitter feeds around the web, beating out artwork about Mountain Dew's awkward AF puppymonkeybaby and commentary on Beyoncé general slayage of the halftime show. Though, to be fair, Queen Bey is a prominent feature in the most loved (and, to be honest, most accurate) meme of the 2016 Super Bowl.
The text on the meme, whose creator is unknown, reads, "When u tryin to fit in" and pans to a screen grab of Beyoncé and Bruno mars killing it on stage. . . and poor Chris Martin trying to squeeze into the frame. The meme encapsulates what everyone was thinking during the performance: Why is Coldplay even here?
Poor Coldplay. The band was supposed to be the star of the show. But when you compare its mellow melodies to Beyoncé and Bruno's danceable beats, it'd hard for Chris Martin and his compadres to take center stage.
Oh Chris, we're sorry these two stars stole your shine.