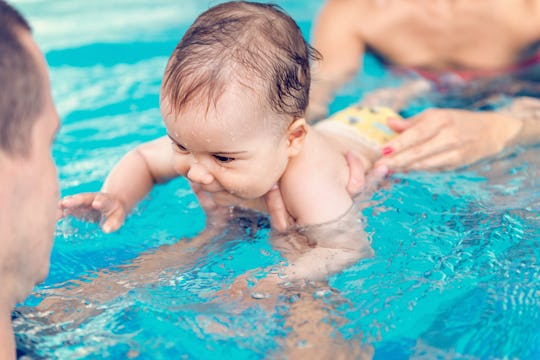 Microgen/Fotolia
This Is The Easiest Way To Prevent Your Kid From Drowning This Summer
Drowning is a topic no parent wants to think about, but being aware of the best way to prevent little kids from drowning is extremely important in ensuring it's not something you need to worry about. According to Injury Prevention Web, accidental drowning was the third leading cause of death in the U.S. for children between 1 and 4 years old. Additionally, it's estimated that for every 10 children who drown, 36 check into a hospital and 140 are seen in the emergency room.
Luckily, there's a simple and very effective way to help lessen the chances of a child drowning: a fence. The National Center for Biotechnology Information (NCBI) shared a study that showed pool fencing significantly reduces the risk of drowning. The study also concluded that pool fences should have a secure, self-latching gate (whether private or public), and the pool should be isolated from the house, meaning all four sides of the pool are enclosed within the fence.
Because most drownings occur in residential areas, putting up a fence can stop kids from openly walking over or falling into a neighborhood pool, according to the U.S. Consumer Product Safety Commission (CPSC). Some states even require that swimming pool barrier (fence) guidelines be met within their building code.
Additionally, the aforementioned CPSC article shared that the 300 children who drown every year in backyard pools could be saved if homeowners fenced in pools completely and put in self-closing, self-latching gates. Although it may seem pretty straightforward to install a fence, many people don't realize the importance of isolating the pool from the house surrounded by fence on all four sides. This creates extra safety and prevention for children inside your home as well. CPSC also shared that chain link fences or fences with latticework should not have openings exceeding 1-¾ inches. And for those with above-ground pools, a barrier should still be in place with steps or a ladder that are lockable or removable to prevent kids from climbing into the pool.
Although no parent wants to think about the possibility of their child or any child drowning, it's a preventable problem in many places. In order to help ensure kids stay safe in areas with a pool, fences are truly proven as the single best way to prevent drowning. If you have a pool, even if your location's building code doesn't require it, make sure you have a barrier surrounding it. No parent is able to watch their kids every single second, and a child wondering outside towards the pool isn't something anyone should have to worry about. A barrier with a secure gate, or an above-ground pool with a removable or lockable ladder, will lower the chances of drowning significantly.