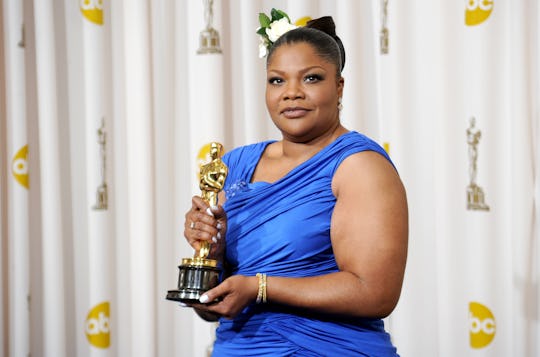 Jason Merritt/Getty Images
This Is The Last Time A Person Of Color Won An Oscar
The whitewashing of Oscar-nominated performances continues to be the talk of Hollywood, the press, and the fans who attend movies (or stream them). Alas, the last time a person of color won an Oscar was in 2010 when Mo'Nique won for best supporting actress in Precious. That's far too long of a waiting period, especially considering the scores of incredible performances by actors and actresses of color over the past few years.
For her Oscar win, Mo'nique took to the stage wearing white gardenias in her hair — similar to Hattie McDaniel, who became the first African-American actress to win an Oscar in 1940. Mo'Nique received a standing ovation from the Academy as she accepted her award, and made sure to reference McDaniel in her speech.
At the time, film critics and press agreed that Mo'Nique had given an outstanding performance as an abusive mother, Mary Lee Johnston, in the small, independent film about a poor African American girl's traumatic childhood. After Precious garnered critical success in film festivals, Oprah Winfrey and Tyler Perry jumped on as producers to open up its distribution, and get behind the film financially. And that meant major money, which helped the film get noticed by the Academy — which may have been its saving grace.
So why is this happening how are people reacting? Here are a few things you should know to understand how things got to this point.
What's Oscar Campaigning?
By now, people know how important it is to campaign for an Oscar nomination. I'm not saying that campaigning is everything, but according to film researcher and statistician Stephen Follows, studios spend millions of dollars every year on advertising, PR consultants, securing the coveted November/December release date, and screeners, in order to get films to Academy voters. The process hasn't changed much in 80 years, except for a 2013 addendum that allowed voters to cast an online vote as opposed to a paper ballad. That could potentially leave out smaller studio (and possibly more diverse) productions.
Who Casts Academy Award Votes?
Gil Robertson, president of the African-American Film Critics Association, told Variety that he was "shocked but not entirely surprised" at the lack of diversity in Oscar nods this year, even after #OscarSoWhite lit up the Twitterverse last year. According Fellows' research there are just over 6,000 Academy Award voters who "are mostly male, largely white, [and] with a median age of 62." (And they probably don't like being called out on their whitewashing of nominations either.)
How Are Stars Reacting To #OscarsSoWhite?
According to WPIX 11 News, some of Hollywood's African American A-listers are boycotting this year's Academy Awards to protest the whitewashing. Most notably, Spike Lee and Jada Pickett Smith (whose husband Will Smith was snubbed for his much-lauded performance in Concussion) won't be there.
Academy Award nominee Lupita Nyong'o wrote on Instagram this week that she was with her "peers who are calling for change." In an interview with BBC "World Have Your Say" journalist Emma Wilson, musician Will.I.Am reportedly stated that people needed to "create [their] own academies" if they wanted to solve the #OscarsSoWhite problem.
If there's a silver lining to this year's #OscarsSoWhite sitch, it's that Academy Award master of ceremonies Chris Rock will undoubtedly take the Academy members to task for their alleged racism in the wittiest of ways.
Images: Jason Merritt/Getty Images; Giphy (1); Chelsea Lauren/Getty Images for Mercedes-Benz USA