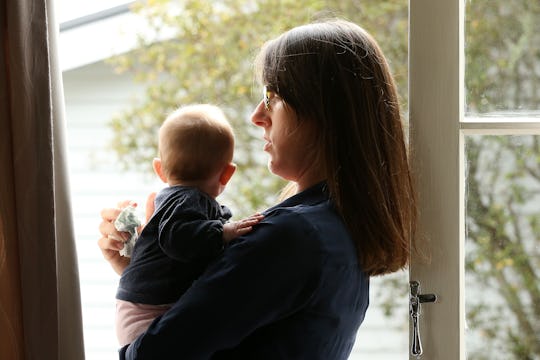 Fiona Goodall/Getty Images News/Getty Images
This Is The State With The Worst Paid Leave Laws
Unfortunately for Americans, paid leave is still an ongoing issue. Although there are countless working families in America, there aren't many federal or state laws protecting parents that need to take paid leave when their child is born or if a loved one becomes ill. According to the Department of Labor, only 12 percent of workers in the private sector can get paid family leave through their employer. To make this staggering statistic even worse, a handful of states haven't passed any additional laws to bolster the federal unpaid leave regulations already put in place, aka the 1993 Family Medical Leave Act (FMLA). That being said, there is one particular state with the worst paid leave.
In 2016, The National Partnership for Women and Families released a U.S. report card analyzing all 50 states, as well as the District of Columbia, on their policies for working families, including each state's legislation on paid leave. The report card examined each state's policies by "State Workers" versus "Private Sector Workers." In terms of "Private Sector Workers," the report looked at "Paid Family Leave" while "State Workers" were analyzed by "Paid Family and/or Medical Leave." Although Alabama, Arizona, Georgia, Idaho, Michigan, Mississippi, Missouri, Nevada, Oklahoma, South Carolina, South Dakota, and Wyoming all received a failing grade of "F" in the report, Alabama did the worst across the board.
To put the report into context, the Family Medical Leave Act allows "certain employees with up to 12 weeks of unpaid, job-protected leave per year," according to the United States Department of Labor. Obviously, many families can't afford to take unpaid leave, which puts the burden on states to help provide them with further protection. An example of a state doing its part is New York, which passed the Paid Family Leave policy in 2016. Starting in January 2018, the policy will "provide New Yorkers job-protected, paid leave to bond with a new child, care for a loved one with a serious health condition or to help relieve family pressures when someone is called to active military service," according to NY.gov.
Alabama, in contrast, doesn't have any policies on "paid family leave" for "Private Sector Workers" as well as no "Paid Family and/or Medical Leave" for its "State Workers." To take it a step further, the state doesn't even offer any policies on "Paid Sick Time," according to The National Partnership for Women and Families' report. Alabama, especially when compared to a state like New York, is failing its working families. It's also important to note that Alabama was the only state in the report to offer no additional policies to FMLA across the board, including metrics like "Job-Protected Leave Longer Than Federal FMLA" and "Flexible Use of Sick Time," for example, according to the report card. Although these policies aren't directly related to paid leave issues, they do illustrate that Alabama doesn't have much concern for working families, and also that it is unlikely to support any kind of federal paid leave law in the future.
The only step that has been taken to address paid leave is the "Working Families Flexibility Act," aka H.R. 1180, legislation introduced by Republican Alabama Rep. Martha Roby. The bill passed in May 2017 to much controversy, and it's not hard to see why. Originally, the bill was touted as a means to "provide greater choice and increased time flexibility in the workplace" for working families, according to a press release from Roby. In essence, the bill allows private sector employees the ability to convert overtime pay into comp time if they so wish. The only problem is, this supposed flexibility is managed by the employer, not the employee. In this situation, an employee is not in charge of when he or she uses their accrued comp hours. In addition, an employer can cash out the employee's hours at any time or suspend the program altogether.
Linda Meric, in an essay for the Huffington Post, said of the bill's dangers:
This anti-family proposal would force workers to spend more time away from their families in exchange for possibly getting to spend time later with their families. Under this proposal, the employer, not the employee, would determine when earned comp time can be used. In other words, a low-wage working mother could be forced to work 50 hours one week during Spring Break when her children are off from school, and in exchange for that overtime work get 10 hours off another week when they are back in school. This may be flexibility for the employer, but it would cost the employee extra money for child care, less money in overtime earnings and less time with her family.
When you combine the tricky bill with Alabama's lack of paid leave policies, it's obvious the state has a lot of work to do when it comes to supporting its working families. Adequate paid leave shouldn't be something a worker has to relentlessly fight for, or to be conned out of. Paid leave is important as well as necessary. Not only do supportive paid leave policies lead to better work environments, but they also provide better lives for families across America. It goes without saying that families shouldn't have to suffer financially to take care of their loved ones.