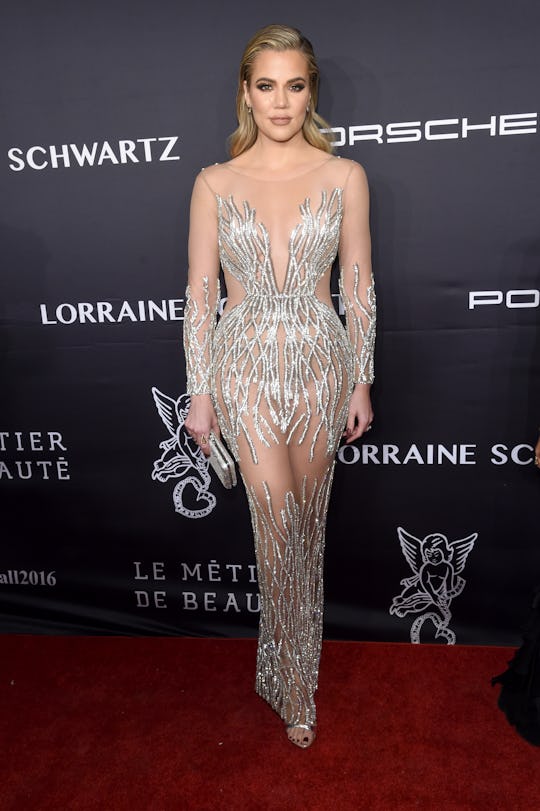 Jamie McCarthy/Getty Images Entertainment/Getty Images
Here's Where You Can Get Khloé Kardashian's Stroller
When you're pregnant for the first time, choosing baby gear can feel mega daunting. And given that some items can be majorly pricey, it can also be easy to feel overwhelmed when trying to decide. Given how valuable a good stroller can be when you're a new mom, it's no surprise that the internet is full of reviews, and while they can be helpful, the conflicting opinions can also make your head spin. But if you're looking for something that comes with the Kardashian seal of approval, this is the stroller Khloé Kardashian is using for True, and it looks like a pretty solid choice.
The arrival of Khloé's infant daughter may have sadly been overshadowed by Tristan Thompson's cheating scandal, but from the sounds of it, the new mom hasn't let it get in the way of her enjoying every minute of her time with her little girl. Khloé recently shared a little bit about her life as a mom on her app, Khloé With A K, and in doing so, she also revealed that baby True was strolling in a MIXX, by Dutch baby brand, Nuna. She wrote,
True and I made it out of the house! It's perfect springtime weather in Cleveland, so we hit the park and it was so much fun. I covered our Nuna Mixx stroller with a swaddle to protect little mama from any sun (also in hopes that it would help her catch a snooze, lol).
Though the Nuna MIXX may not necessarily seem like an obvious choice — I mean, Kylie Jenner's super swank Fendi Inglesina Classica pram seems like a much more on-brand pick — it's pretty easy to see why Khloé is a fan. The MIXX is designed with newborns and toddlers in mind (it can be used with a carry cot, as a travel system for an infant car seat, or with the MIXX stroller seat, either the rear-facing or forward-facing); it folds easily and compactly, with an automatic quick-click fold lock; it can be opened one-handed (key!), and can be easily pushed one-handed, too.
The good news for us non-celebrity moms? Khloé's stroller pick is also relatively affordable compared to some other celeb-loved brands. While even a non-Fendi branded Inglesina Classica pram will cost you about $900 for the base model, and a Cybex by Jeremy Scott Cherub stroller — owned and loved by new mom Mindy Kaling — will set you back about $2000, not including the cost of the optional carry cot, the standard Nuna MIXX rings in at $599.
In other words, it seems like Khloé definitely went for practicality over flash when it came to choosing her stroller for True. But when the time comes to visit grandma Kris Jenner in California? It sounds like she'll be enjoying a much fancier ride. In January, People reported that Kris purchased "multiple Silver Cross strollers," for her granddaughters, including a $2,700 black Silver Cross Balmoral pram for Kim Kardashian and Kanye West's daughter, Chicago. And if that stroller sounds familiar, it probably should: it's the same brand of stroller chosen by Catherine, the Duchess of Cambridge, along with generations of other royal mothers.
But as much as Khloé may be happy with her new stroller (not to mention her opportunity to take True out of the house so she could actually use it), she did recently admit that the one thing she wasn't so happy about were the paparazzi photos of her outing. Although the new mom didn't have to worry too much about prying cameras snapping a shot of the little one (Khloé had the stroller covered up with a muslin blanket), she wrote on her app that she probably could have done without having to see photos of her post-baby body everywhere. According to The Sun, Khloé wrote,
When I saw myself in those first post-pregnancy paparazzi photos, I couldn't believe how big my booty looked! I can't wait to tone up again and get my body back to where it was.
As much as it's unfortunate that Khloé felt less than pleased with the pics, it's definitely a relatable feeling — I also remember being low-key horrified by a photo of my new-mom self, and it really does take a while before you begin to feel comfortable in your skin again (after all, we can't all be Kate Middleton, even if we can buy her stroller).
What matters though is that Khloé seems to be really enjoying being a new mom, and it's fun to see her sharing all about her experience on her website and app. And though she's definitely been through a lot since True's birth, it sounds like she isn't letting any of the drama interfere with spending quality time with her new daughter.