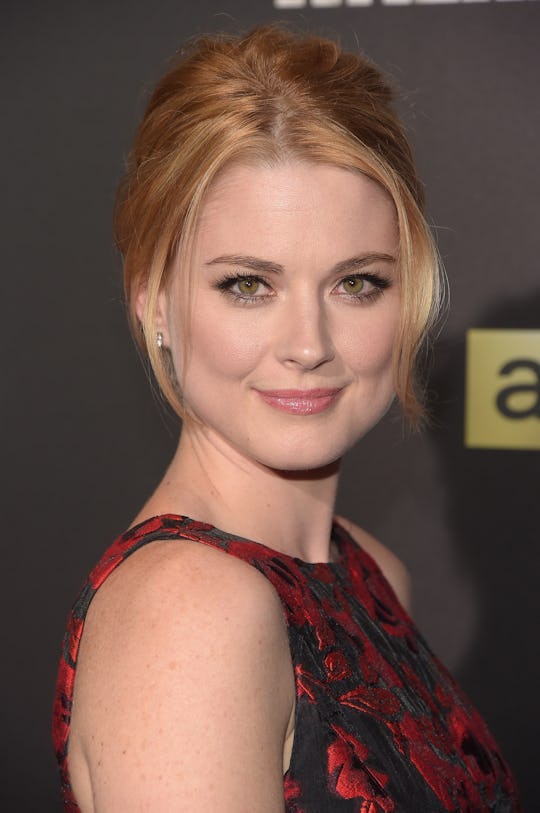 Theo Wargo/Getty Images Entertainment/Getty Images
'This Is Us' Star Alexandra Breckenridge Was Afraid She'd Be Fired Over Her Pregnancy
Sharing pregnancy news with friends and family is generally an exciting affair. But spilling the beans to your boss? Not so much. For some reason — even though women are protected by law from being terminated due to pregnancy — finally sharing the happy news in the workplace can seem like a daunting task. And for celebrities, the anxiety surrounding how producers will react can magnify this uncertainly. In fact, This Is Us star Alexandra Breckenridge was scared she'd be fired over her pregnancy.
Breckenridge — who plays Kevin Pearson's rekindled love interest, Sophie, on the hit drama series — was reportedly terrified to reveal her pregnancy at work. "I was like, 'I'm gonna get fired,'" the 35-year-old actor told Us Weekly . "I was scared to tell them because I thought it would cause issues for production." Thankfully, this was far from reality. As it turned out, creator of This Is Us, Dan Fogelman, was happy for Breckenridge. She told the publication:
"I called Dan and said, 'I'm sorry. I'm pregnant.' "He was just like, 'Oh, that's amazing! Congratulations!' He's so nice."
Breckenridge went on to explain another source of her anxiety surrounding sharing her pregnancy with the cast and crew. And it makes sense, considering her character on the show isn't pregnant. "I had just started on the show and I knew it was going to cut into production time," she told People on Nov. 3. "I didn't want them to have to cater to me in any way."
Breckenridge told People in September that there are a number of ways they've hidden her pregnancy on-screen while shooting This Is Us. "We're still filming, and they have tricks and different clothes to hide stuff, and you can stand behind a counter and frame halfway up," she told the publication "It hasn't been too bad. They can also digitize it out these days!"
Of course, after cluing in family, friends and key people at the workplace to a pregnancy, there's only one thing left for an expecting mama to do: Make it social-media official! On Aug. 16, Breckenridge announced her pregnancy on Instagram. Alongside a bump shot, the actress wrote, "We made another one!! Baby Breckenridge Hooper coming this winter."
According to People, Breckenridge and husband Casey Hooper already have a 15-month-old son, Jack. They will be welcoming baby number two in less than a month — and this time, it's a girl! The soon-to-be mom of two confessed that she was hoping for a daughter this time around. "Not because I don't love my boy," she told the publication. "I was just scared of having another one because Jack has so much energy and I just thought with two of them I'd never be able to keep up."
When I was pregnant with my first child, I remember feeling incredibly anxious about telling my supervisors. At the time, I had only been working for the company for roughly three months. I was aware I couldn't be fired for being pregnant, but I still had a feeling my boss/co-workers would be less than thrilled. Looking back, the way I went about spilling the beans could have been, er, more straightforward.
It was just me and my manager sitting at computers in an open-office atmosphere at the time. I approached him, heart racing, and said something like, "So I just wanted to give you a heads-up; I'm going to need at least six weeks off at the end of the summer." He looked at me, befuddled. "What? Why?" Obviously, he didn't understand my reference to six weeks of maternity leave, and my lame attempt at being clever went entirely over his head. " ... Because I'm pregnant," I finally spit out. He said something to the effect of, "Wow, OK," and then sent me to a supervisor's office. Fail.
Everything went smoothly in the end. No one made any negative comments on my pregnancy, and I received partially-paid maternity leave for six weeks — which sadly, is more than most women get here in the United States, since we aren't guaranteed any weeks of paid leave what-so-ever after pushing a tiny human out of our bodies. But that's beside the point. Even though a workplace can't legally fire a woman for being pregnant, women shouldn't feel like they're doing something wrong or letting their workplace down by starting a family. And, with as Breckenridge example, even Hollywood isn't exempt from this.
Watch Romper's new video series, Romper's Doula Diaries:
Check out the entire Romper's Doula Diaries series and other videos on Facebook and the Bustle app across Apple TV, Roku, and Amazon Fire TV.