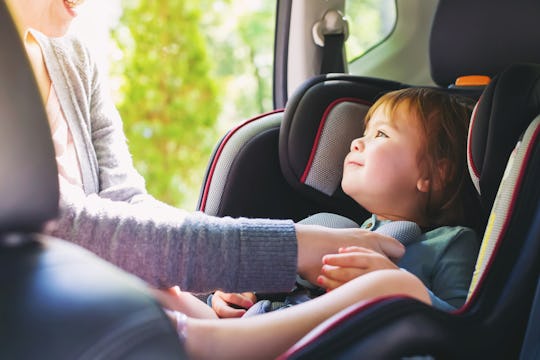 Melpomene/Fotolia
The Danger Of Putting Your Toddler In a Forward-Facing Car Seat
One of the most important items you will ever own is your child's car seat. Even if you don't have a vehicle, you can still get plenty of use out of a car seat when traveling or taking public transportation. Once you've researched and chosen the right one, it is essential to follow the car seat safety guidelines, especially in regards to keeping your child rear-facing into toddlerhood. You may be anxious to turn your child around, especially if you aren't aware of what happens in a collision when a toddler rides forward versus rear-facing. But studies have shown that infants and toddlers are safest in a rear-facing position.
"The NHTSA recommends that a child ride rear-facing as long as possible," Rebecca Grapsy of the National Highway Traffic Safety Administration's (NHTSA) Office of Communications and Consumer Information tells Romper. "The child should remain in a rear-facing car seat until he or she reaches the top height or weight limit allowed by the car seat manufacturer." This is supported by the American Academy of Pediatrics (AAP), which noted that most currently available convertible seats can be used rear-facing until your child is least 35 pounds. This means that most toddlers can remain in their rear-facing seats until around age 2 or 3.
Grapsy says that a rear-facing car seat cradles and moves with your child, in order to reduce the stress to the child's neck and spinal cord in the event of a collision. As the AAP noted, infants younger than age 2 have relatively large heads and several structural features of their neck and spine that put them at particularly high risk for head and spine injuries in motor vehicle crashes. Rear-facing car seats provide optimal support to the head and spine. There is also evidence that indicates that this benefit extends to children who are older than 2 years old and small for their age.
A study in the journal Injury Prevention compared the injury risk between rear‐facing and forward‐facing car seats for children younger than years of age in the U.S. Researchers found that children in forward-facing car seats were significantly more likely to be seriously injured than children restrained in rear‐facing car seats in all crash types. The study found that rear‐facing car seat effectiveness was approximately 15 percent higher than forward‐facing car seats.
Unfortunately, the AAP and NHTSA recommendations don't necessarily translate into law. According to Governors Highway Safety (GHSA), only six states — California, New Jersey, Pennsylvania, Oklahoma, Oregon and South Carolina — require children younger than 2 years old be in a rear-facing child seat. This is why it is important for parents to follow recommended guidelines, and make sure that anyone who travels with their children follow the guidelines as well. The NHTSA offers videos to help caregivers properly install their car seats as well as a search tool to find a car seat installation inspector in your area.