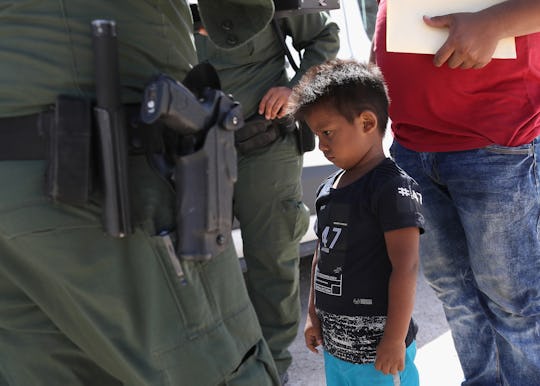 John Moore/Getty Images News/Getty Images
This Is What Happens Inside A Child's Body When They Are Separated From Their Parents
As the U.S. government detains and separates families seeking asylum in the United States, sending parents to jail and children to governmental custody, leaders and civilians alike are arguing about the potential political and social consequences of forcibly removing children from their guardians. Though many who advocate against the policy are at least trying to empathize with what those families might be experiencing, it's important to understand what happens inside a child's body when they are separated from their parents, because it's not just emotional, and is certainly not benign.
Mercury News reported that when children are taken from their parents or guardians, their bodies produce a neurological and physiological stress response. Their heart rates rise, they release stress hormones like cortisol and adrenaline, and when sustained over time, those hormones can begin to kill off dendrites, which are branches of brain cells that impact neurological function. This is how sustained trauma becomes long-term damage, and why Charles Nelson, a pediatrics professor at Harvard Medical School, told the newspaper that the effect of separation is so "catastrophic" that if anyone had paid attention to the plethora of research, "they would never do this."
Vox reported that the Trump Administration has issued a policy in which they will criminally prosecute any families caught entering the United States illegally. The site explained that between Oct. 1, 2017 and May 31, 2018, a total of 2,700 children were split from their parents, and 1,995 of those separations happened in the last six months.
Many different individuals and organizations have issued statements and petitions advocating against the policy. Vox reported thatthe American Academy of Pediatrics, American College of Physicians, and the American Psychiatric Association all issued statements in protest of the policy, and almost 8,000 mental health professionals and more than 142 organizations have also signed a petition against it. The petition reads as follows:
To pretend that separated children do not grow up with the shrapnel of this traumatic experience embedded in their minds is to disregard everything we know about child development, the brain, and trauma.
President of the American Academy of Pediatrics Dr. Colleen Craft told CNN that the policy constitutes "child abuse," and that the "toxic stress" she witnessed firsthand has the potential to "disrupt their brain architecture and keep them from developing language and social and emotional bonds and gross motor skills," The Daily Mail reported. The U.N. chief of human rights Zeid Ra'ad al-Hussein also called the policy "unconscionable," CBS reported, saying that they were at high risk for "serious health consequences."
Though members of the Trump family have remained mum about the escalating situation, First Lady Melania Trump did issue a statement through her communications director, Stephanie Grisham. Grisham told CNN that Melania "believes we need to be a country that follows all laws, but also a country that governs with heart," according to Fortune. She continued:
Mrs. Trump hates to see children separated from their families and hopes both sides of the aisle can finally come together to achieve successful immigration reform." She continued to explain that
Many state officials seem to be siding with the First Lady, though their attempts at making their opinions known are a little less shallow. A coalition of 21 attorneys general are calling the policy a "cruel and illegal attack on children and families lawfully seeking asylum in the United States as they seek protection from domestic, sexual, and gang violence," The New York Times reported.
The states the attorneys represent include California, Connecticut, Delaware, Hawaii, Illinois, Iowa, Maine, Maryland, Massachusetts, Minnesota, New Jersey, New York, North Carolina, Oregon, Pennsylvania, Rhode Island, Vermont, Virginia, and Washington, according to Law.com.
Reuters reported that President Trump will be meeting with lawmakers on Tuesday, June 19, to discuss policy reform and immigration legislation.