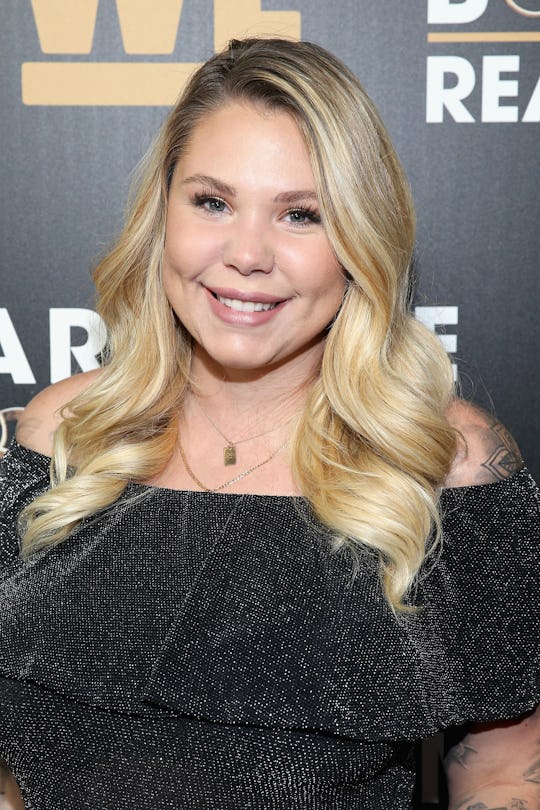 Bennett Raglin/Getty Images Entertainment/Getty Images
Kailyn Lowry Reveals What's In Her Diaper Bag Now Vs. When First Became A Mom
Teen Mom 2 star, mother of three, and author Kailyn Lowry has grown a lot as a woman and a mother. As any veteran parent will tell you, parenthood is a learning curve. You learn what is essential and what is just extra baggage. As such, this is what Kailyn Lowry carries in her diaper bag and it's a lot less than when she first became a mother.
In a recent Us Weekly video interview, Lowry opened up her heart — and her diaper bag — to share a bit about her life as a mother. When she had her first child, 7-year-old Isaac, she carried around an oversized Vera Bradley diaper bag that was full to the brim. "I thought I needed to carry I everything I owned," she told Us Weekly. Since 3-year-old Lincoln and 9-week-old Lux came into the picture, though, she travels much lighter. She shared in the video that she no longer even carries an actual diaper bag.
Sporting a chic Louis Vuitton backpack, Lowry explains that she sticks to the basics these days, with a few personal items thrown in. Her full list of essentials includes some chapstick, a "Toys-R-Us" gift card, an extra onesie, two pacifiers, an spare pair of pants, a Skip Hop Pronto changing pad, a Go-Pro camera, one sock, a water bottle, a phone charger, hand sanitizing wipes, and a bottle of dry shampoo.
Although she describes it as a "not typical" diaper bag, many of Lowry's choices have a clear parenting purpose behind them. The changing pad? "So that they aren't dirty in public bathrooms." The extra clothes? In case of an "emergency blowout." Her list does beg a serious question though: where are the diapers? The items not for baby Lux are easily explained by her decision to combine her purse and her diaper bag into one. After all, who doesn't love a good dry shampoo?
Along with sharing her packing list with the world, Lowry has also been busy taking little Lux for his first visit to Disneyland. She posted a cute photo on Monday of her youngest son wearing a Micky Mouse cap embroidered "Lux's 1st Visit 2017" as they toured the Southern California park together. In the background of the photo, Lowry has on mouse ears of her own, though hers are a bedazzled black and purple.
It's not all theme parks and Micky Mouse ears, though. When she stopped by the Us Weekly offices recently, Lowry admitted that raising three young children can be tough. Sleep schedules between the boys are far from coordinated. She reportedly told the outlet:
The mornings are crazy. Issac doesn't want to get up. Lincoln is always up first and then the baby might have just fallen asleep.
Her job is further complicated by the fact that she and Lux's father are not together. She told Us Weekly that his schedule makes things tricky as well, saying, "It's been a little bit hard. It's hard because he's in school and working." It is unlikely that Lowry's living situation will change any time soon, as she has gone on the record to say that she is "definitely single," though open to love if it comes her way, she told the publication.
Along with being open to love, Lowry is also open to the idea of having more children — but that would be in the future. She spoke with People in September and said that it was a possibility, even going so far as to share that she would like to have a girl one day. She said:
I'm open to more kids, but I'm not going to try right now. Right now, I'm pretty good where I'm at. But, yeah, one day.
For now, I think it's safe to say that this mama has plenty to keep her busy — three little ones and a blossoming career, she's certainly got her hands full.
Watch Romper's new video series, Romper's Doula Diaries:
Check out the entire Romper's Doula Diaries series and other videos on Facebook and the Bustle app across Apple TV, Roku, and Amazon Fire TV.