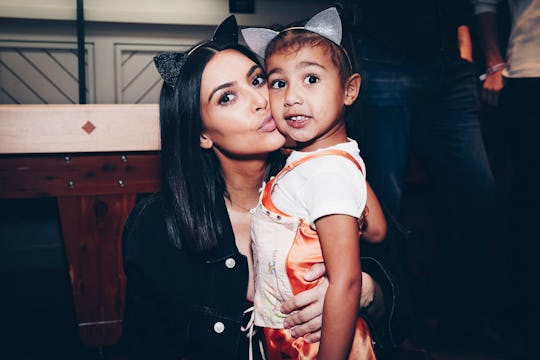 Handout/Getty Images Entertainment/Getty Images
Here's When Kim Kardashian Will Let North Wear Makeup
With the 10-year anniversary of the E! reality hit Keeping Up with the Kardashians coming up next month, the celebrity family is firmly ingrained in the cultural fabric of the United States and the world. The five Kardashian/Jenner sisters, their "momager," Kris, and her ex Caitlyn Jenner are known not only for their long-running empire, but also for their decadent, fabulous style. And the empire is so enduring that a whole new generation of Kardashians are making their mark, including Kim Kardashian's daughter, North. Still, she's only 4 years old, so it'll be a few years before she fully embraces the glam inherent to her fame. And as the mom of two revealed in a YouTube video posted on Wednesday, Kardashian won't let North wear makeup for quite a while — even if she's related to some of the biggest names in the business.
The Kardashians are glamorous above all else: Kendall Jenner is a world-famous model; Kylie Jenner's cosmetics company is on track to be worth $1 billion by 2022; Kim herself is an undisputed style icon and queen of makeup. Most recently, all the women and their mom just graced the cover of The Hollywood Reporter. So, it's no surprise that, while Kardashian filmed a makeup tutorial video with YouTuber Desi Perkins, talk turned to when North would be allowed to dabble in the wonders of contour and eyeliner on her own. And if Kardashian has her way, North won't be picking up a makeup brush until she's a pre-teen.
While chatting with Perkins, Kardashian looked back on her own childhood introduction to makeup to predict when her own daughter may be ready add that next step to her getting-ready routine:
Probably 12, that's when I started to get into it and then when I was like 14 my dad got me makeup lessons and they video taped it and showed us how to put on liner and lashes. They were really just into actual contour and concealer, all kind of nude monochromatic looks, which is so my vibe and probably why I like the kind of makeup that I like.
Considering the fact that North is already a pro at creating the perfect spa environment and rockin' some of the most fashion-forward outfits in the game (this toddler has a leopard print slip dress!), you may think that she may wear some makeup here and there, too. Apparently, that's not the case
Waiting until 12, of course, is a pretty typical age for young girls (and some boys, too) to start experimenting with makeup. But there are a few reasons to believe that North won't have to go through the awkward phase of inexpertly smearing on globs of liquid eye shadow, like so many pre-teens do. And when the time comes, she'll learn only from the best.