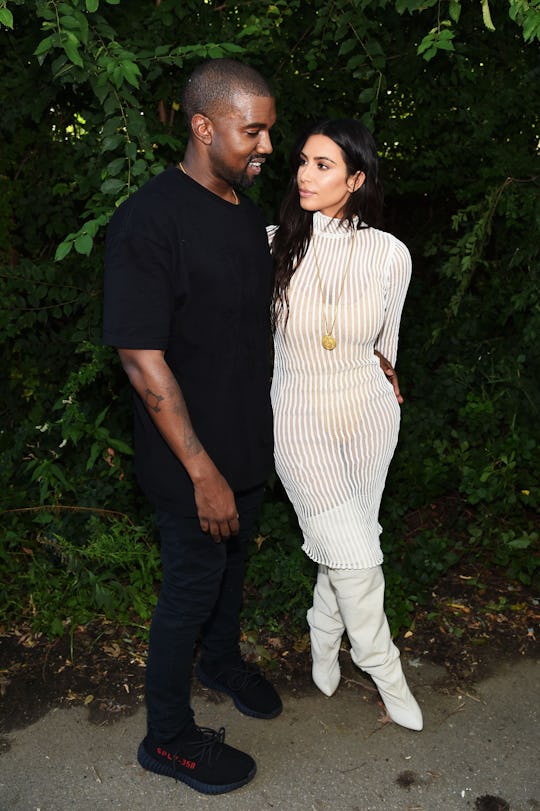 Jamie McCarthy/Getty Images Entertainment/Getty Images
This Is Where You *Won't* Find Photos Of Kim & Kanye's New Baby Girl
Keeping Up with the Kardashian star Kim Kardashian and her husband, rapper Kanye West, welcomed their third child — a baby girl — into the world via surrogate on Monday. Kardashian shared the news the very next day on her website. Fans now know that the baby arrived close to 1 a.m. that day and weighed 7 lbs and 6 oz., but have yet to learn the baby girl's name or see a picture of the new arrival. Don't pick up a celebrity magazine expecting to find one, though: Kardashian won't be selling photos of her new baby to any publications, according to reports.
Unnamed sources reportedly told TMZ that media outlets offered Kardashian and West up to $5 million for the opportunity to exclusively share the first shots of their newest baby, but that the couple turned them down. Romper reached out to Kardashian's rep for comment on these reports, but did not receive an immediate response.
Still, the reports sound accurate, based on what West and Kardashian have chosen to do in the past. When North West — the couple's oldest child at 4 years old — was born in 2013, they refused to sell pictures of North to the media, and instead debuted their oldest daughter's first picture on grandmother Kris Jenner's show, Kris, a full two months after North was born.
After, when 2-year-old son Saint West was born in 2015, West and Kardashian took the same approach (minus the whole Kris debut, since it had been cancelled long ago at that point). The parents chose not to sell any pictures of Saint to the media, and instead introduced their second child to the world via Kardashian's website, again two months after Saint's birth.
When Kardashian was still pregnant for the first time in 2013, West made it clear to The New York Times that family was a pretty solid line he drew in the sand with the media. "I would do anything to protect my child," he said. He continued:
I just don't want to talk to America about my family. Like, this is my baby. This isn't America's baby.
Kardashian and West also chose to keep their two kids off of Keeping Up with the Kardashian for some time. It wasn't until 2015 that viewers managed to catch anything other than a glimpse of the back of North's head on KUWTK, when the show gave the world a look at North's appearance in her father's music video. However, sightings of the Kardashian children are still rare on the show, with West and Kardashian preferring to keep them out of sight.
Fortunately for fans who like staying up to date with Kardashian's family news, the mom of three posts adorable pictures of her kids on social media fairly frequently. She has, however, been more selective in what she posts on social media ever since she was the victim of an armed robbery in Paris in October 2016.
"I think that social media is one of the most important tools if you're building a brand … and just to share your life, I think it's really fun," Kardashian told The View in June, according to People. She did add, though: "I'm a little bit more cautious these days on what I do share."
Luckily, cute pictures of her kids seems to be one of the things Kardashian does still share, so fans can probably expect to see pictures of the so-far-mysterious baby number three in a couple of months. (Around March, if Kardashian follows her two-month pattern for first pictures.) In the meantime, sit back and don't buy tabloids that promise pictures of the newest addition to the family — because they won't be there.
Check out Romper's new video series, Romper's Doula Diaries:
Watch full episodes of Romper's Doula Diaries on Facebook Watch.