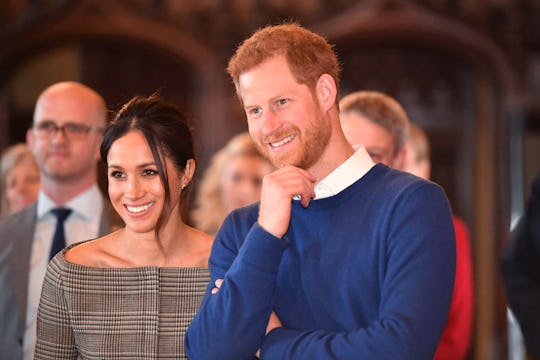 WPA Pool/Getty Images Entertainment/Getty Images
Meghan Markle & Prince Harry's Matchmaker Has Reportedly Been Revealed
Fairy tales do come true — and American actress Meghan Markle can attest to this. After becoming engaged to Prince Harry (and soon-to-be sixth in line to the throne) last year, Markle and Prince Harry appeared in their first televised interview to talk about how this fairy tale and their love came to be. They revealed that they met like your average couple — through a mutual friend who set them up. But now the identity of their Markle and Prince Harry's matchmaker has reportedly been revealed. According to E! News, mutual friend Violet von Westenholz is the one who paired up the adorable royal duo.
Romper's request for comment from Violet von Westenholz was not immediately returned and Kensington Palace declined to comment on the reports.
During their first sit-down interview together in November, Markle and Prince Harry told the story of how they met which all came down to this mysterious friend of theirs. "We were introduced by a mutual friend, actually," Prince Harry said in the interview, according to TIME. "But it was literally — it was through her and then we met once or twice back-to-back two dates in London last July."
If only I had as good of a friend as Meghan Markle does. Because this friend of hers not only found her the love of her life, but changed her life forever in the best way possible. On Wednesday, E! News confirmed that this friend, von Westenholz, is the identity of their "matchmaker."
Von Westenholz, according to E! News, reportedly "has been in Harry's trusted inner circle of friends for years" and became a "confidant for Harry" for some time. And as for Markle, she and von Westenholz reportedly became friends through von Westenholz' job. According to E! News, von Westenholz works in public relations for Ralph Lauren in the United Kingdom and Markle is pretty into fashion, to say the least, so their friendship makes total sense. Their friendship is strong enough, according to HuffPost, that von Westenholz even made an appearance on Markle's Instagram account before it was deactivated earlier this month. But von Westenholz played coy in November when speaking to Metro about confirming her identity as the person who set them up. According to Metro, she said:
I might leave that for other people to say (who it is). It's a great story and I'm sure they're going to be very happy together. I am just happy they are really happy. They are great together.
In their first interview together, Markle and Prince Harry stated that they both knew what their friend was doing — trying to make a match and get them together. "Yes, it was definitely a set up," Markle said at the time in their interview with the BBC. "It was a blind date."
But that blind date did go incredibly well. Markle and Prince Harry said during their interview with the BBC, according to TIME, that they ended up meeting for a second date the day after their initial first date.
This reported confirmation must be a relief to some royal family watchers who have been speculating about the identity of the matchmaker for months. Many people believed that the matchmaker was fashion designer, Misha Nonoo, according to Vanity Fair, especially since Nonoo is one of Markle's closest friends and Nonoo's ex-husband, Alexander Gilke, is one of Prince Harry's closest friends.
But now that von Westenholz has been reportedly revealed as the person that put them together, people no longer have to speculate. Although, it is important to remember that von Westenholz is just another person, too. And just because she reportedly set up the royal couple doesn't mean she should be open to the same criticism and scrutiny they receive, either. Especially since Markle said, in that first joint interview, according to Cosmopolitan, that they wanted to protect their friend's privacy and not reveal their identity. So, people need to respect their wishes, even if their friend's identity has been revealed now.
Regardless, the news could not be any more exciting, and is just one more detail to know leading up to the royal wedding in May.
Check out Romper's new video series, Romper's Doula Diaries:
Watch full episodes of Romper's Doula Diaries on Facebook Watch.